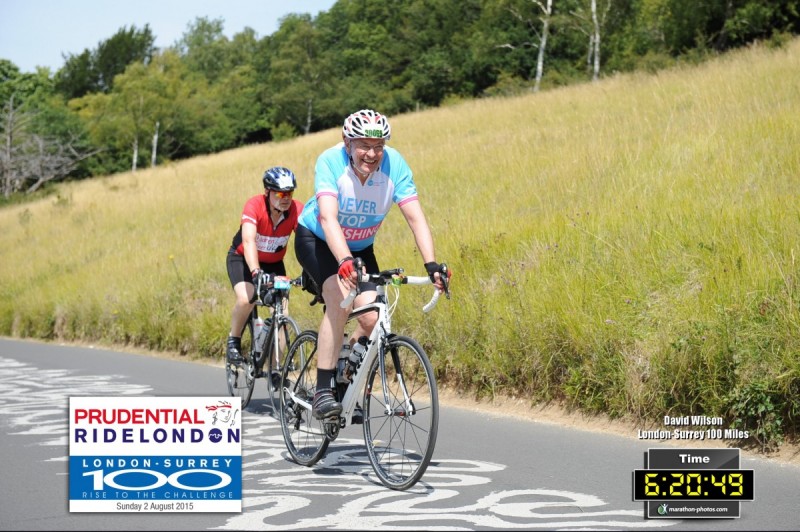 An Oxfordshire couple who own their own radiology business have been inspired to cycle from London to Paris to raise money for children's charity Action Medical Research.
Dr David Wilson (pictured above on last year's RideLondon-Surrey 100), who runs St Luke's Radiology in Headington with wife Dr Gina Allen, said the pair are only too aware of the desperate need to fund vital medical research to help future generations.
"The treatment that we offer our patients is based on others' research. Without funding medicine cannot advance and new treatments cannot develop," he says. "It is exceptionally difficult for medical researchers to obtain financial support, especially in the current economic climate. Many scientists spend a great deal of their time seeking funds rather than doing the research. The more we can contribute to research, the easier and more fulfilling will be our children's and grandchildren's lives."
David and Gina will be joined on Wednesday, 20 July, on the 275-mile ride to the French capital by their daughter Natalie Morgan, a high-level rower who is considering a career in medicine.
Action Medical Research's London to Paris ride, which is in its 16th year, will finish in Paris on Saturday, 23 July, with cyclists riding in convoy down the Champs Élysées to the Eiffel Tower the day before the iconic Tour de France race ends along the same streets.
In July 2015 almost 250 cyclists raised more than £360,000 for the UK-wide charity and cyclists participating in this year's ride – the biggest of its kind - will be raising money to help the hundreds of thousands of children in the UK whose lives are devastated by disease and disability.
The family already donates more than £50,000 a year to research and also fund a full-time fellow, a doctor from Italy who assists with research activities; they recently completed a major prospective study into ankle injuries in collaboration with the Oxford University Hospitals and hope to publish four scientific papers this year.
"It made sense to use our sporting and spare time activities to help raise money for more research," says David who adds that training is well underway. "We lecture on an international circuit and, as far as we can, fit in training between flights and clinical work in Oxford. Often it has to be a static bicycle so we have to increase the roadwork over the last few weeks.
"Our daughter is exceptionally fit from her rowing and we wonder just how much quicker than us she will be.
"I'm looking forward to the challenge of completing the distance each day, the scenery and the camaraderie."
For more than 60 years Action Medical Research has helped pioneer treatments and ways to prevent disease that have benefited millions of people in the UK and across the world. Research they've funded has helped to beat polio in the UK, develop ultrasound in pregnancy, fight meningitis and prevent stillbirths.
Action Medical Research is currently funding research into meningitis, Down syndrome, epilepsy and premature birth, as well as some rare and distressing conditions that severely affect children.
If you'd like to ride for a reason and raise money for Action Medical Research by cycling from London to Paris in 2017, please visit action.org.uk/action-london-paris  to find out more and to register.
To support the team's fundraising, please visit action.org.uk/sponsor/stlukesradiology2016
- ENDS -
To download high-res images, please click on the links below -
David on last year's Prudential RideLondon-Surrey 100 ride:
https://www.action.org.uk/sites/default/files/downloads/press/david_wilson.jpeg
The team at St Luke's Radiology:
https://www.action.org.uk/sites/default/files/downloads/press/st_lukes_radiology.jpg
NOTES TO EDITORS:
For more information on Action Medical Research, please contact Ellie Evans, Fundraising Communications Officer, on:
T 01403 327480
Follow us on Twitter at @actionmedres and @amr_events  
Like our Facebook page at facebook.com/actionmedres
Follow us at pinterest/actionmedres
Action Medical Research is a leading UK-wide charity saving and changing children's lives through medical research. For more than 60 years we've helped pioneer ways to prevent disease and develop treatments benefiting millions of people. Our research has helped to beat polio in the UK, develop ultrasound, fight meningitis and prevent stillbirths. But we urgently need to develop more new treatments and cures for sick babies and children and we can't do it without you.
Join our fight for little lives today.
Charity reg. nos 208701 and SC039284