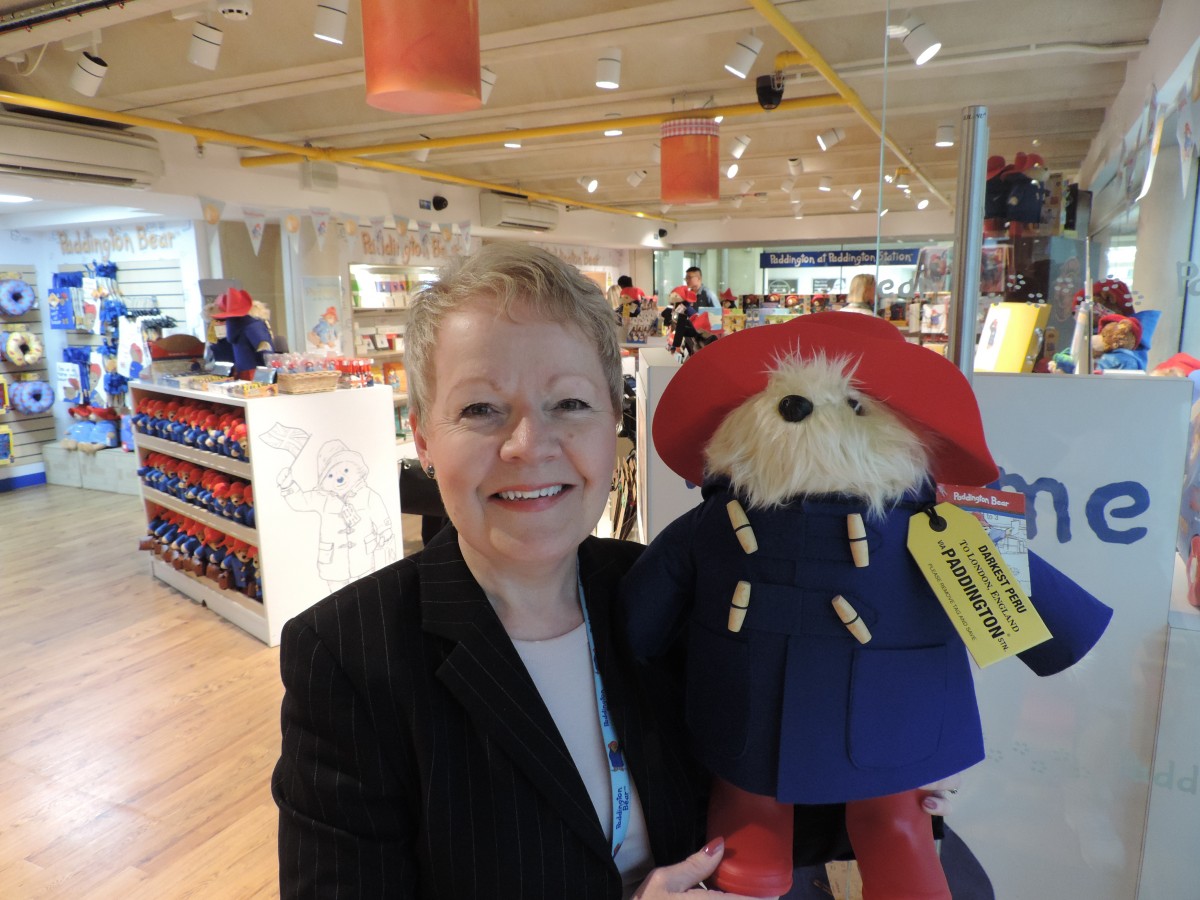 Action Medical Research for children is delighted to announce that the Paddington™ Shop at Paddington Station has helped raise more than £50,000 for the charity.
Jackie Tyson, Retail Director of the Paddington Shop was recently awarded a certificate to mark the momentous occasion: "I'm absolutely thrilled" admits the longstanding employee from Beckenham, Kent.
"But it's really not just down to me; all the staff at the store have been a tremendous help in trying to promote the charity; and of course we are all so grateful to our wonderful customers who have donated over the years too."
The money comes from the sale of special Paddington pin badges which were first introduced to the shop in 2008. There are five variations which cost £2 each with all proceeds going to Action.
Jackie's framed certificate now has pride of place amongst some of the shop's many Paddington products and she hopes to continue collecting donations for a long time to come:
"We want to carry on helping Action as much as possible because it is such a worthwhile charity.
"Our customers love the different pin badges; they are happy to buy them when we tell them what the Action charity does for babies, children and their families."
Action's Head of Relationship Fundraising, Toby Tennant says Jackie's dedication is inspiring: "Jackie has worked tirelessly for many years to help promote the Paddington brand and its association with Action Medical Research.
"We just want Jackie and her team to know how much we appreciate everything they do to help raise funds for vital medical research and for their continued support. From all of us at Action, thank you."
Paddington Bear™ has been at the heart of fundraising for Action for more than 40 years ever since his creator, Michael Bond, met the charity's founder, Duncan Guthrie, in 1976.
Paddington Bear's friendly face has helped the charity attract thousands of new supporters who together have raised millions of pounds to help babies and children.
Action is a UK-wide children's charity which funds desperately needed research to tackle the diseases that devastate the lives of so many of our children. It has been funding medical breakthroughs since it began in 1952 including helping to introduce the first polio vaccines in the UK, developing the use of ultrasound in pregnancy and testing the rubella vaccine.
The charity is currently funding research into areas including premature birth, epilepsy, asthma, scarlet fever, cerebral palsy, brain cancer and some rare and distressing conditions.
-ENDS-
NOTES TO EDITORS:
To download a picture of Jackie Tyson:
https://www.action.org.uk/sites/default/files/downloads/press/jackie_tyson.jpg
To download the Action logo:
https://www.action.org.uk/sites/default/files/downloads/press/action_logo_for_header.jpg
About Paddington Bear:
For 60 years, British-born writer Michael Bond has delighted children and families all over the world with his stories about Paddington, the bear from Darkest Peru, famous for his love of marmalade. Paddington is popular with children and adults alike who feel affectionate and warm towards him; the charm and humour of the Paddington stories is the key to their enduring popularity.
Paddington's adventures have been adapted several times for television and at the end of 2014 Paddington made his debut onto the big screen. The movie, produced by StudioCanal, part of the international content and media group Vivendi, is the best-selling non-Hollywood family movie ever released. A second Paddington movie, Paddington 2, launched globally at the end of 2017 to great critical acclaim.
In 2016, Vivendi took full ownership of the Paddington brand worldwide, with the exception of the classic publishing rights.
In 2015, in recognition of Paddington's extraordinary popularity and success, Michael Bond was made a CBE (Commander of the Most Excellent Order of the British Empire) for services to children's literature. Michael Bond died in June 2017, leaving behind a legacy of one of the best loved children's characters in the world. This year marks the 60th Anniversary of the first book, A Bear Called Paddington, which was published by William Collins on 13th October 1958.
Follow Paddington on Twitter at @paddingtonbear
Like Paddington's Facebook page at https://www.facebook.com/PaddingtonBear/
©P&Co. Ltd./SC 2018
Licensed on behalf of STUDIOCANAL S.A.S by Copyrights Group.
For more information on Action Medical Research, or to arrange an interview with Rob, contact Peter Denton, Fundraising Communications Officer, on:

T: 01403 327412
E:pdenton@action.org.uk
W: action.org.uk
Follow us on Twitter at @actionmedres and @amr_events  
Like our Facebook page at facebook.com/actionmedres
Follow us on Instagram at @actionmedres and @actionevents
Action Medical Research is a leading UK-wide charity saving and changing children's lives through medical research. For more than 65 years we've helped pioneer ways to prevent disease and develop treatments benefiting millions of people. Our research has helped to beat polio in the UK, develop ultrasound in pregnancy, fight meningitis and prevent stillbirths. But we urgently need to develop more new treatments and cures for sick babies and children and we can't do it without you.
Join our fight for little lives today.
Charity reg. nos 208701 and SC039284.