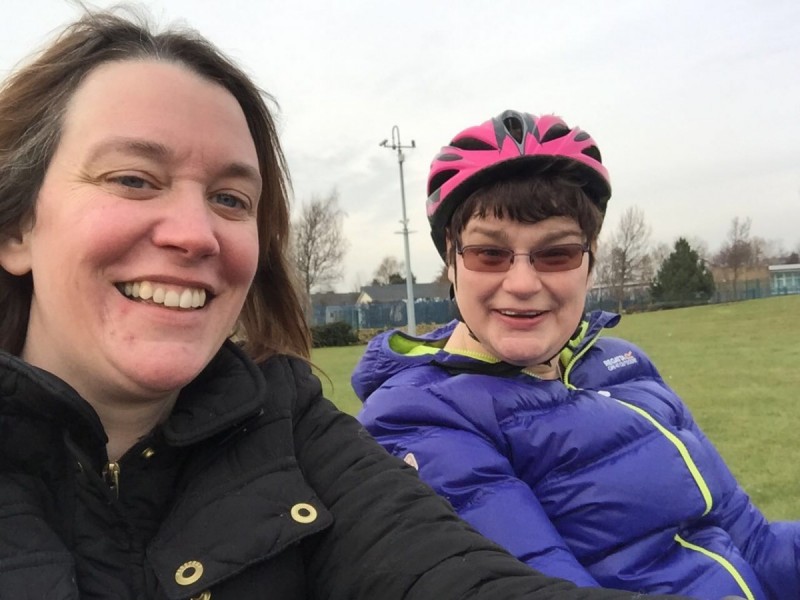 A Tamworth woman has been inspired to swap four wheels for two to tackle a 20-mile bike ride in memory of her friend's son.
Pippa Bellis, who has athetoid cerebral palsy, meaning all four of her limbs have involuntary movements, will be cycling from Markeaton Park to Elvaston Castle and back again on Sunday, 8 May, in aid of UK-wide children's charity Action Medical Research.
She's bravely swapping her wheelchair for a tandem bicycle for the challenge in honour of Rohan Alipour-Faridani, who lost his battle with rare mitochondrial condition MELAS (which stands for myopathy, encephalopathy, lactic acidosis and stroke-like episodes) on 4 October 2014 at the age of 10.
Pippa, of Gillway Lane, says her close friendship with Rohan's mum Vicky Stubbins (pictured left with Vicky) has motivated her to support Action Medical Research's work to save and change the lives of sick and disabled babies and children.
"I have always loved the idea of cycling but, because of the severity of my disability, it had never been possible," says Pippa.
"In March I was at the Calvert Trust's outward-bound centre and saw they had a tandem bike that I may be able to pedal. Even though there was not time for me to have a go on it, it made me realise how much I wanted to take cycling up as a hobby. I found Christine Kelly, an all-inclusive cycling coach for Cycle Derby, who invited me to an open day where I tried the same tandem bike I had seen. To my amazement, I found that not only could I balance on the seat of the tandem bike but I could pedal it too."
Christine agreed to become Pippa's cycling coach and the pair now go on weekly rides to build her strength and stamina.
"I have really grown to love cycling and I wanted to set myself a challenge involving it," adds Pippa.
"I had the privilege of knowing Rohan personally. I first met him when he was three years old and, while most children would shy away from someone in a wheelchair, all Rohan wanted to do was to hold my hand. This theme continued every time I went to see Vicky: Rohan would not let Vicky and I go out on our own as he would always wanted to come with us, not that I minded at all because I adored Rohan.
"Because he was such a special little boy and because Vicky was a mum in a million and a truly inspirational friend, I wanted to give something back. I feel that it is so important that exploratory studies goes on to stop children like Rohan, their families and their loved ones going through the same thing."
With the help of its supporters, Action Medical Research has played a significant role in many medical breakthroughs for more than 60 years, from the development of the first UK polio vaccines to the use of ultrasound in pregnancy.
It is currently funding research into meningitis, Down syndrome, epilepsy and premature birth, as well as some rare and distressing conditions that severely affect children.
To support Pippa's fundraising, please visit action.org.uk/sponsor/pippabellis or to contribute to the tribute fund for Rohan, head to action.org.uk/tribute/rohanalipourfaridani
- ENDS -
For a high-res image of Pippa (right) with Rohan's mum Vicky Stubbins, please click on the link below:
https://www.action.org.uk/sites/default/files/downloads/press/pippa_bellis.jpg
NOTES TO EDITORS:
For more information on Action Medical Research, please contact Ellie Evans, Fundraising Communications Officer, on:
T 01403 327480
Follow us on Twitter at @actionmedres and @amr_events  
Like our Facebook page at facebook.com/actionmedres
Follow us at pinterest/actionmedres
Action Medical Research is a leading UK-wide charity saving and changing children's lives through medical research. For more than 60 years we've helped pioneer ways to prevent disease and develop treatments benefiting millions of people. Our research has helped to beat polio in the UK, develop ultrasound, fight meningitis and prevent stillbirths. But we urgently need to develop more new treatments and cures for sick babies and children and we can't do it without you.
Join our fight for little lives today.
Charity reg. nos 208701 and SC039284.