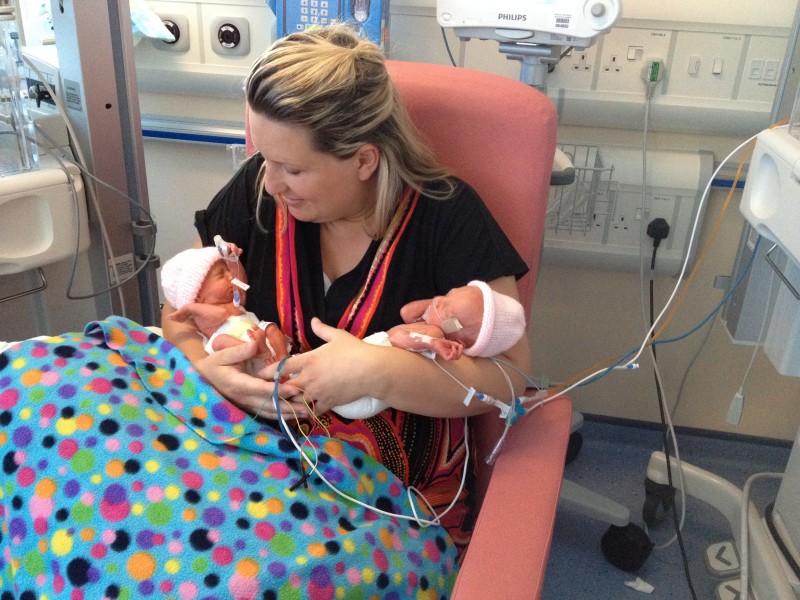 A Northamptonshire dad has been inspired by his premature twins to take to two wheels and ride for a reason in aid of children's charity Action Medical Research.
Malcolm Vincent, from Ringstead near Kettering, will be taking part in RideLondon-Surrey 100 on Sunday, 31 July, to raise money to save and change the lives of sick and disabled babies and children.
On 10 July 2012 Malcolm's wife Leona gave birth to identical twins Emily and Brooke (pictured above), sisters to older brother Adam who was born in August 2011. Monitoring had revealed Brooke was suffering from possible fetal growth restriction and the girls were delivered 10 weeks early by emergency Caesarean.
At birth Brooke weighed just 1.1kg while Emily tipped the scales at 1.3kg and they spent the first six weeks of their lives in hospital, first at the John Radcliffe Hospital in Oxford and then in the Neonatal Intensive Care Unit at Kettering General Hospital.
"The fact that they were so tiny and fragile made us really appreciate the advances in medical science," says Malcolm. "It was a very fraught and frightening time but we never really doubted that they were going to be okay because the care and medical attention they were given was just so incredible. They were in such good hands."
More than 60,000 babies are born prematurely every year in the UK, yet little is known about why some babies are born too soon.
Action Medical Research has been funding medical breakthroughs since it began in 1952 and is currently funding more than 75 projects at leading hospitals, universities and specialist centres across the UK, among them a number of studies to help find the causes of premature birth and develop new treatments.
Although still small for their age, Emily and Brooke are now happy and healthy little girls looking forward to their fourth birthday in July with their hearts set on a "bike with pedals" just like their daddy.
Malcolm, 51, who's Managing Director of Lifeplus Nutritional Supplements, has ridden RideLondon each year since it began in 2012 and even hopes his children will one day join him on the 100-mile ride, Europe's largest sportive, which follows the Olympic 2012 road cycling route along closed roads from London's Queen Elizabeth Olympic Park.
"The sense of so many people cycling together with so many people also cheering you on is just amazing," he says. "It is certainly the most enjoyable ride out there from that perspective. I want to do RideLondon every year until the kids can do it with me - training for it is a great way of keeping fit too."
If you'd like to ride for a reason and raise money for Action Medical Research in the RideLondon-Surrey 100, please visit action.org.uk/prudential-ridelondon-surrey-100 to find out more and to register.
To support Malcolm's fundraising, please visit action.org.uk/sponsor/mvincent
- ENDS -
For high-res images, please click on the links below –
Leona with the twins when they were in hospital:
https://www.action.org.uk/sites/default/files/downloads/press/leona_vincent_with_brooke_and_emily.jpg
The family together (from left: Brooke, Leona, Adam, Malcolm and Emily):
https://www.action.org.uk/sites/default/files/downloads/press/malcolm_kettering_family_1.jpg
Malcolm's family (from left: Leona, Emily, Adam and Brooke):
https://www.action.org.uk/sites/default/files/downloads/press/malcolm_kettering_family_2.jpg
Malcolm on his bike:
https://www.action.org.uk/sites/default/files/downloads/press/malcolm_vincent_ridelondon-surrey.jpg
NOTES TO EDITORS:
To find out more about the research Action is funding into premature birth, please visit action.org.uk/category/premature-birth
For more information on Action Medical Research, please contact Ellie Evans, Fundraising Communications Officer, on:
T 01403 327480
Follow us on Twitter at @actionmedres and @amr_events  
Like our Facebook page at facebook.com/actionmedres
Follow us at pinterest/actionmedres
Action Medical Research is a leading UK-wide charity saving and changing children's lives through medical research. For more than 60 years we've helped pioneer ways to prevent disease and develop treatments benefiting millions of people. Our research has helped to beat polio in the UK, develop ultrasound, fight meningitis and prevent stillbirths. But we urgently need to develop more new treatments and cures for sick babies and children and we can't do it without you.
Join our fight for little lives today.
Charity reg. nos 208701 and SC039284.