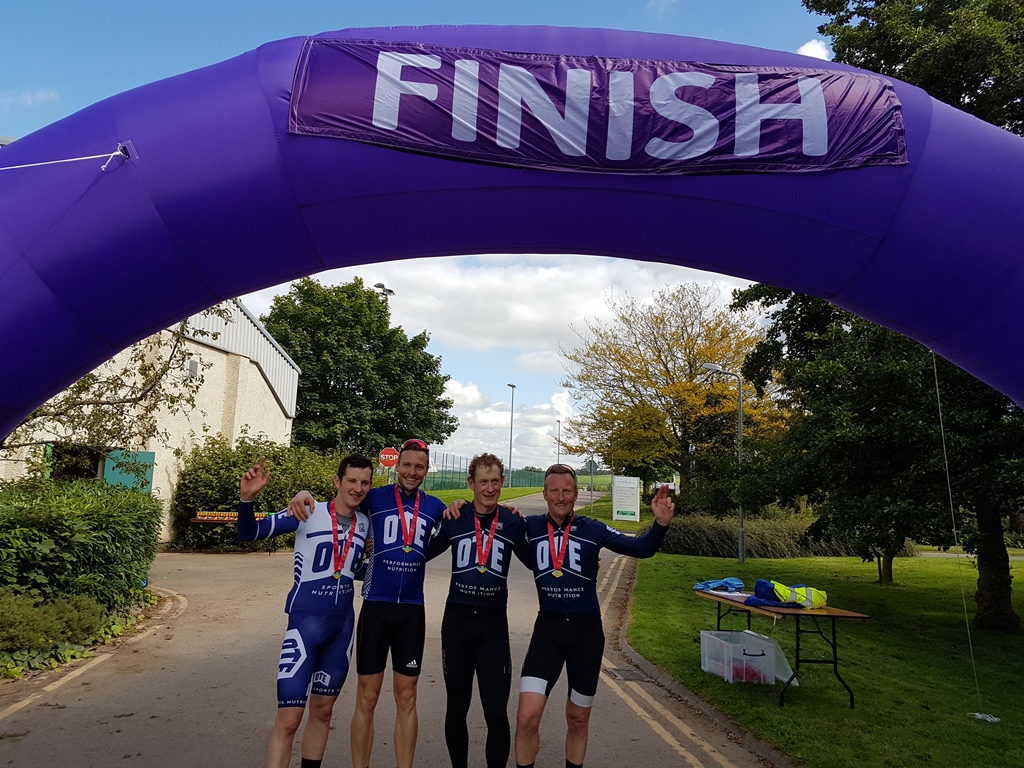 Record-breaking Team OTE on the finish line (L to R: Jack Clarkson, Nick Robinson, Andy Bond, Dave Jefferis)
A team from Leeds are celebrating after smashing a course record for the Action Medical Research 'Race The Sun' event on Saturday 2 September.
The fundraising challenge was held in the Lake District and is part of a series. Separate events with similar courses are also staged throughout the year in the Brecon Beacons and the Isle of Wight.
The victorious team from OTE – Andy Bond, Dave Jefferis, Jack Clarkson and Nick Robinson – completed the 80km cycle ride, the hike up Hellvellyn and the 3km canoe in 6 hours 18 minutes. The previous record was 6 hours 20 minutes.
Speaking afterwards team captain Andy said: "We were obviously delighted to find out we'd come first, but when we were told about the course record we just couldn't believe it!
"Representing a sports nutrition brand I suppose the pressure was on to put in a decent effort. The important thing is that we all got round in one piece and helped raise money for a great cause."
The fundraising money is still being collected but is on course to top £90,000.
A total of 45 teams took part in the Lake District, including two – 'Bridgehead' and 'Wrong Direction' - who completed all three of this year's challenges.
Head of Events for Action Medical Research Emma Morgan said: "Well, we certainly finished the 2017 'Race The Sun' season with a flurry! As always we're so grateful to everyone who took part – it really was a fun atmosphere.
"The amount of training and dedication each team puts in during the weeks and months leading up to these events is incredible. We're absolutely thrilled with the forecast fundraising figure and can't wait until 2018!"
Action Medical Research is a UK-wide children's charity which funds desperately needed research to tackle the diseases that devastate the lives of so many of our children. It has been funding medical breakthroughs since it began in 1952 including helping to introduce the first polio vaccines in the UK, developing the use of ultrasound in pregnancy and testing the rubella vaccine.
The charity is currently funding research into conditions including asthma, prematurity, epilepsy, meningitis, cerebral palsy, brain cancer and some rare and distressing conditions.
- ENDS –
To download a photo of OTE:
https://www.action.org.uk/sites/default/files/downloads/press/ote_m.jpg
(L to R: Jack Clarkson, Nick Robinson, Andy Bond, Dave Jefferis)
To download a photo of the Lake District:
https://www.action.org.uk/sites/default/files/downloads/press/lake_district_m.jpg
NOTES TO EDITORS:
For more information on Action Medical Research, contact Peter Denton, Fundraising Communications Officer, on:
T: 01403 327480
E: pdenton@action.org.uk
W: action.org.uk
Follow us on Twitter at @actionmedres and @amr_events  
Like our Facebook page at facebook.com/actionmedres
Follow us on Instagram at @actionmedres and @actionevents
Action Medical Research is a leading UK-wide charity saving and changing children's lives through medical research. For 65 years we've helped pioneer ways to prevent disease and develop treatments benefiting millions of people. Our research has helped to beat polio in the UK, develop ultrasound in pregnancy, fight meningitis and prevent stillbirths. But we urgently need to develop more new treatments and cures for sick babies and children and we can't do it without you.
Join our fight for little lives today.
Charity reg. nos 208701 and SC039284.