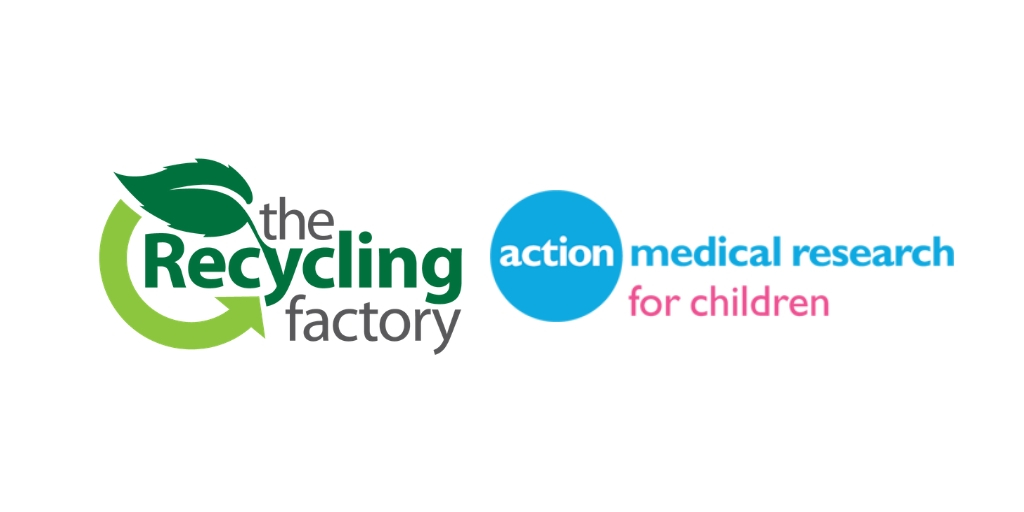 The Recycling Factory has officially raised £58,000 to date for Action Medical Research for children.
Formed in 2007, the partnership between The Recycling Factory and children's charity Action Medical Research has gone from strength to strength. Through the charity scheme, the collaboration enables vital funds to be raised through the recycling of empty inkjet and toner cartridges.
Founded in 1952, Action Medical Research has been funding medical breakthroughs since day one. This includes helping develop the first polio vaccines in the UK, ultrasound scanning in pregnancy and the rubella vaccine.  Action works tirelessly in order to help save thousands of children's lives and change many more by helping to fund critical research to find answers.
The charity's most recent campaign, Born Too Soon, is working to raise £1 million by 2020 to fund groundbreaking medical research that could go on to benefit millions. The funds raised through The Recycling Factory can help support vital campaigns like this.
Toby Tennant, Head of Relationship Fundraising at Action Medical Research, said: "We're delighted to have worked with The Recycling Factory for the past 11 years to raise this amazing amount.
"As a charity we help fund research to find the answers that can lead to cures, treatments and medical breakthroughs for some of the toughest fights our children face. Answers that save lives."
Alicia Thompson, Charity Partnership at The Recycling Factory, said: "£58,000 is an incredible amount of money and we are so happy to be supporting this incredible charity through our recycling scheme.
"It wouldn't have been possible without the generosity of the charity's supporters and this has enabled the partnership to really flourish! We look forward to continued growth and helping the charity to raise even more funds!"
The Recycling Factory donates 100% of the proceeds to Action Medical Research. There is no cost for individuals or businesses who wish to get involved; it is an invaluable, free and simple way to support this incredible charity.
Action Medical Research is a UK-wide children's charity which funds desperately needed research to tackle the diseases that devastate the lives of so many of our children. It has been funding medical breakthroughs since it began in 1952 including helping to introduce the first polio vaccines in the UK, developing the use of ultrasound scanning in pregnancy and testing the rubella vaccine.
The charity is currently funding research into areas including premature birth, epilepsy, asthma, scarlet fever, cerebral palsy, brain cancer and some rare and distressing conditions.
-ENDS-
NOTES TO EDITORS:
For more information on Action Medical Research contact Peter Denton, Fundraising Communications Officer, on:

T: 01403 327412
E: pdenton@action.org.uk
W: action.org.uk
Follow us on Twitter at @actionmedres and @amr_events  
Like our Facebook page at facebook.com/actionmedres
Follow us on Instagram at @actionmedres and @actionevents
Action Medical Research is a leading UK-wide charity saving and changing children's lives through medical research. For more than 65 years we've helped pioneer ways to prevent disease and develop treatments benefiting millions of people. Our research has helped to beat polio in the UK, develop ultrasound in pregnancy, fight meningitis and prevent stillbirths. But we urgently need to develop more new treatments and cures for sick babies and children and we can't do it without you.
Join our fight for little lives today.
Charity reg. nos 208701 and SC039284.