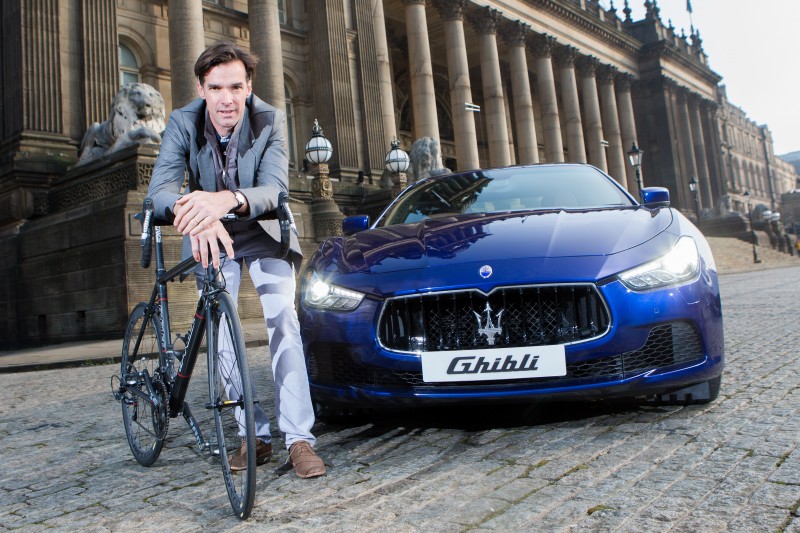 Action Medical Research has been selected as the charity beneficiary of the inaugural Rouleur Classic Pro Ride with David Millar and Maserati.
The Rouleur Classic Pro Ride will see 60 riders join four-time Tour de France stage winner Millar for an intimate 40-mile ride from Foxhills Hotel & Resort in Surrey plus an unforgettable session at a private track driving the latest Maserati luxury models.
The event on Friday, 13 May 2016, also includes lunch with Millar, the cycling ambassador for the luxury Italian car brand.
The ride is part of the Maserati Cycling initiative, a programme designed to celebrate the marque's affinity with the sport and to offer a series of unique experiences for Britain's road cyclists.
Having collaborated on the first Rouleur Classic event in November, the Pro Ride extends Maserati's partnership with Rouleur to curate bespoke opportunities for the discerning rider.
David Millar is most closely associated with Cofidis, the team he rode for from 1997-2004, and Garmin-Sharp (2008-2014). He has won four stages of the Tour de France, five of the Vuelta a España and one stage of the Giro d'Italia. He was the British national road champion and the national time trial champion, both in 2007, and is the only British rider to have worn all Tour de France jerseys.
Maserati was the automotive partner for Action Medical Research's glittering Champions of CycleSport Dinner in November, at which Millar was a guest. He says the cause is one close to his heart.
"Family is all important to me and, since retiring from racing in 2014, I've been able to spend more time with my wife and two sons," he says. "I'm delighted to be supporting Action Medical Research that does so much to help sick babies and children."
With the help of its supporters, Action Medical Research has played a significant role in many medical breakthroughs since it began in 1952, from the development of the first UK polio vaccines to the use of ultrasound in pregnancy.
It is currently funding research into meningitis, Down syndrome, epilepsy and premature birth, as well as some rare and distressing conditions that severely affect children.
Entry to the Rouleur Classic Pro Ride with David Millar in aid of Action Medical Research is £475 – for more information and to register, please visit action.org.uk/rouleur-classic-pro-ride-out
- ENDS –
For high-res images of David Millar and Maserati, please click on the links below:
http://www.action.org.uk/sites/default/files/downloads/press/david_millar_maserati_credit_alex_whitehead_-_swpix.jpg (credit Alex Whitehead)
http://www.action.org.uk/sites/default/files/downloads/press/david_millar_maserati_credit_olgun_kordal.jpg (credit Olgun Kordal)
For a high-res image of David Millar at the 2015 Champions of CycleSport Dinner, please click on the link below:
https://www.action.org.uk/sites/default/files/downloads/press/david_millar_champions_2015.jpg (credit Phil O'Connor)
Watch David Millar become the first man to drive up and cycle down the famous Hillclimb course at Goodwood on the same day https://youtu.be/7knXbaz-NJQ
NOTES TO EDITORS:
For more information on Action Medical Research, please contact Ellie Evans, Fundraising Communications Officer, on:
T 01403 327480
Follow us on Twitter at @actionmedres and @amr_events  
Like our Facebook page at facebook.com/actionmedres
Follow us at pinterest/actionmedres
Action Medical Research is a leading UK-wide charity saving and changing children's lives through medical research. For more than 60 years we've helped pioneer ways to prevent disease and develop treatments benefiting millions of people. Our research has helped to beat polio in the UK, develop ultrasound, fight meningitis and prevent stillbirths. But we urgently need to develop more new treatments and cures for sick babies and children and we can't do it without you.
Join our fight for little lives today.
Charity reg. nos 208701 and SC039284.
About Maserati:
Officine Alfieri Maserati was founded on 1 December, 1914 in Bologna, Italy. Since then, Maserati has played a consistently important role in the history of sports car culture and its development. Every Maserati is like a work of art, its perfection expressing the marque's proud history. Celebrating over 100 years of unmistakable styling and technological innovation, Maserati is a company in rapid expansion. With presence in 65 markets worldwide, its role is clearly confirmed as an international ambassador of Italian excellence. This excellence is conveyed every day with passion through products of outstanding performance seen in the GranTurismo, GranCabrio and the new Quattroporte and Ghibli.
For more information on Maserati, visit maserati.co.uk
About Rouleur:
The world's finest road cycling journal, for the most discerning rider. Rouleur was founded in 2006 and has an unrivalled reputation in the world of road cycling, among professional and amateur bike riders alike. Uniquely, Rouleur focuses specifically on professional cycle sport and the personalities, places and brands associated with this remarkable world, commissioning the finest photographers and writers to unearth and convey compelling stories in every issue. Impeccably presented and designed, it is printed on the finest grade paper and published eight times a year.
About Rouleur Classic: 
A unique celebration of the very best in road cycling, the Rouleur Classic is an exclusive, intimatelycurated visitor experience (exhibition/theatre/gallery/photography) taking place in London from Thursday 3 to Saturday 5 November 2016. The Rouleur Classic will feature the sport's pre-eminent brands, personalities and athletes, together with unique previews of the latest products, equipment and technologies, all under one roof.