A number of dedicated runners of all ages are set to tackle the Virgin London Marathon on Sunday in aid of vital research.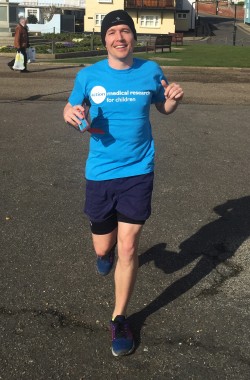 Among them will be a young man who underwent life-saving surgery as a baby: Henry Fox (pictured above) had an operation when he was just three weeks old after suffering from pyloric stenosis, a narrowing of the pylorus passage that leads to the stomach which left him unable to digest food or milk.
Around 1,000 babies have to undergo a similar operation under general anaesthetic in the UK each year and Action Medical Research funded a study at University College London some 10 years ago to search for the faulty gene, or genes, that cause the condition.
"Owing to the type of research carried out by Action Medical Research, I was able to undergo a small operation to rectify this and am now able to make the most of my ability to digest properly!" says Henry, 27.
A fan of Paddington BearTM from a young age, Henry was delighted to support Paddington's favourite UK charity by running 26.2 miles on Sunday, 24 April.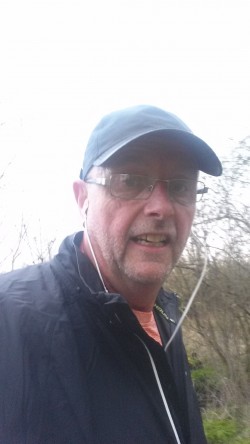 Also pounding London's streets will be Brian Maddox, a Hertfordshire grandfather who says his motto is to 'always look on the bright side of life'. Brian (pictured above), who has three children and three grandchildren, says the fitting Life of Brian quote will be at the forefront of his mind on Sunday.
"I haven't done anything like this before – it has been on my bucketlist for as long as I can remember so I decided it was now or never," he says.
"I'm really looking forward to it and it's a great cause, but I do think it will be a struggle for a total novice like me. I'm aiming to get round the course in about six hours."
Running for a reason too is Paul Stanway (pictured above), a West Norwood father-of-two who originally applied for a marathon place in 2015 but was forced to pull out due to injury.
The 43-year-old, who's dad to sons Woody, aged seven, and four-year-old Theo with wife Susie, has already raised more than £2,000 for vital research and says the family are all too aware of its importance after a tough start to the year.
"Our youngest son was gravely ill and, thanks to the staff at King's College Hospital, he bounced back and made a full recovery," says Paul. "But it really brought home the importance of the work that Action Medical Research do and gave me even more of a reason to re-double my efforts and get behind this fantastic cause."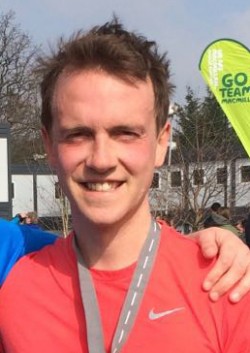 And Will Bostock, 32, from Cranleigh, will also be lacing up his trainers and heading to Greenwich Park on Sunday morning. He was originally due to run with his two brothers Ferg and George but both have now had to defer due to injury.
The trio were originally delighted to gain places on the world-famous run after being inspired by George's wife Dr Joanna Cook's research at Imperial College London into premature birth.            
With the help of funding from Action Medical Research, Dr Cook is looking for a new way to identify expectant mothers who are at risk so they can receive extra monitoring and care designed to protect their babies.
Will (pictured above), who has one daughter, Phoebe, completed the London Marathon in 2007 and 2009 and says his sister-in-law's study to predict which women might go into labour too soon galvanised him into action for Action.
"We know how hard she has worked and the impact of the funding she has received from Action Medical Research," he says. "Action Medical Research is a fantastic charity and, as dads to young children, it is one which is particularly close to our hearts. We appreciate that while we've been lucky enough to have healthy children, others aren't so fortunate so we wanted to do what we can."
Dr Cook was awarded a Research Training Fellowship in February 2014 for her research which aims to develop a simple blood test that could be used very early in pregnancy to identify women who are at high risk of going into labour too soon.
"During my work as a doctor, I have cared for many women who've gone into labour early and witnessed the distress, and sometimes tragedy, this can cause," she says.
Sadly, premature birth is the biggest killer of babies in the UK. Babies who survive are at increased risk of developing lifelong conditions such as cerebral palsy, blindness and learning difficulties. They are also more vulnerable to high blood pressure and diabetes during adulthood.
"Frustratingly, we don't fully understand why some women go into labour too early and are therefore often unable to stop this from happening," adds Dr Cook.
If you'd like to run for a reason and raise funds for Action Medical Research, or you're interested in a place in the world's greatest and best-known events and races, head to action.org.uk/events/running
– ENDS –
NOTES TO EDITORS:
For more information on Action Medical Research, please contact Ellie Evans, Fundraising Communications Officer, on:
T 01403 327480
Follow us on Twitter at @actionmedres and @amr_events  
Like our Facebook page at facebook.com/actionmedres
Follow us at pinterest/actionmedres
Action Medical Research is a leading UK-wide charity saving and changing children's lives through medical research. For more than 60 years we've helped pioneer ways to prevent disease and develop treatments benefiting millions of people. Our research has helped to beat polio in the UK, develop ultrasound, fight meningitis and prevent stillbirths. But we urgently need to develop more new treatments and cures for sick babies and children and we can't do it without you.
Join our fight for little lives today.
Charity reg. nos 208701 and SC039284.