Specialist shipping law firm Campbell Johnston Clark (CJC), is sponsoring the efforts of the intrepid crew behind boat, Elijah's Star, as they get set to compete in the Talisker Whisky Atlantic Challenge in December this year, raising funds for children's charity Action Medical Research. 
Rowing as 'Elijah's Star', the four-man crew is aiming to raise £100,000 for Action Medical Research as they set their sights on completing the 3,000-mile Atlantic challenge, battling waves of up to 20 feet, in a 28 x 5-foot boat. The crew will push their personal boundaries by rowing and sleeping continuously in 2-hour blocks with sleep deprivation, salt sores and physical limitations being broken on a daily basis.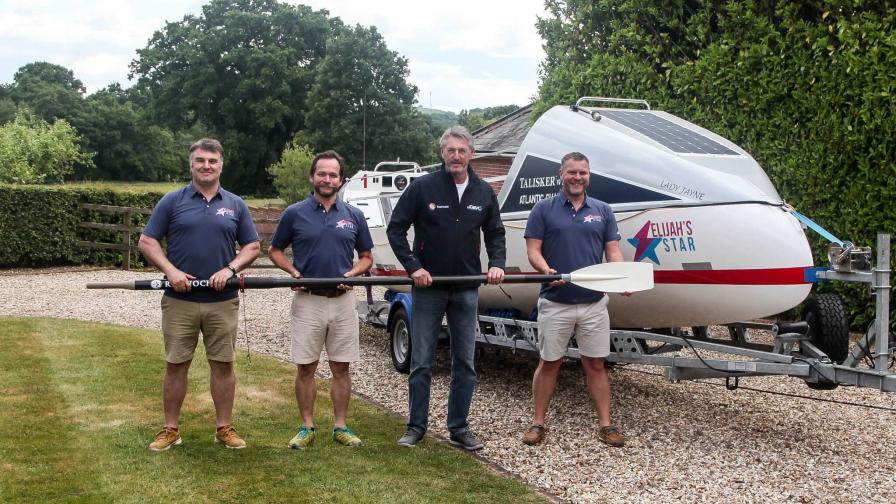 Maria Borg-Barthet, partner from CJC says, "CJC is both excited and honoured to be sponsoring the crew of the Elijah's Star and, importantly, their wonderful cause! Being involved with clients whose vessels traverse the Atlantic on a constant basis, we appreciate the significance of the challenge. We hope the crew's courage and efforts will translate into significant funding for much needed research towards medical breakthroughs to help little ones like Elijah and their families."
Dean Frost, part of Elijah's Star crew and managing director at A1 Engineering Solutions comments: "A huge thank you to everyone who has supported our efforts for Action Medical Research so far. We're rowing in memory of baby Elijah whose life was cut short due to necrotising enterocolitis, a devastating bowel infection in babies. He was born at 25 weeks and three days, weighing just 823g and lived for just 37 days. Subsequently 37 has become an important number for us all: we'd like to make the crossing in 37 days, and we're encouraging individuals and organisations to back the boat and become part of the 37 Club of sponsors and partners. The hard work is ahead of us now as the crew balance their day jobs, encourage new sponsors and get physically and mentally fit. With just over 300 days to go, the training is ramping up as is the determination of us all to beat the target."
Personalities who have added their support to the Elijah's Star campaign include endurance cyclist and world record holder Mark Beaumont BEM and Olympic Champion Sally Gunnell OBE DL.
The Talisker Whisky Atlantic Challenge is the premier event in ocean racing and is recognised as the world's toughest row covering more than 3,000 miles between the start in the Canary Islands and the end point in Nelsons Dockyard, English Harbour, Antigua and Barbuda. The Elijah's Star crew is made up of Philip Bigland, Mac McCarthy, Dean Frost and Kevin Watkins; longstanding acquaintances who have all served in the armed forces and have experience in the rigours of endurance racing. 
Action Medical Research has made a significant impact in its 68-year history by funding medical breakthroughs which have helped save the lives of countless babies and children. Breakthroughs which include discovering the importance of taking folic acid before and during pregnancy to prevent spina bifida, the development of the use of ultrasound scanning during pregnancy, supporting cooling therapy for babies starved of oxygen at birth helping to reduce the chance of brain damage and cerebral palsy, development of the first UK polio vaccines, and supporting testing of the Rubella vaccine.
To follow the journey and to become a sponsor or partner, visit: https://elijahsstar.com/corporate-partners/
-Ends-
Notes to editors
For more information on Action Medical Research: 
Grace Wardley, Communications and Engagement Officer
T: +44(0)7725 090008
E: gwardley@action.org.uk
W: action.org.uk
Follow us on Twitter at @actionmedres and @amr_events  
Like our Facebook page at facebook.com/actionmedres
Follow us on Instagram at @actionmedres and @actionevents
Action Medical Research is a leading UK-wide charity saving and changing children's lives through medical research. For nearly 70 years we've helped pioneer ways to prevent disease and develop treatments benefiting millions of people. Our research has helped to beat polio in the UK, develop ultrasound in pregnancy, fight meningitis and prevent stillbirths. But we urgently need to develop more new treatments and cures for sick babies and children and we can't do it without you.
Join our fight for little lives today.
Charity reg. nos 208701 and SC039284
For more information on Campbell Johnston Clark (CJC):
Ian Short
+44 (0) 20 3301 0970
About Campbell Johnston Clark
Campbell Johnston Clark (CJC) is an international law firm founded in September 2010 specialising in shipping and international trade. CJC has undergone sizeable expansion in both numbers of solicitors and geographical spread since its opening. We have offices in London, Newcastle, Singapore and Miami with approximately 60 staff worldwide. Throughout the past ten years, we have firmly established our presence in the London and overseas shipping markets with clients and fellow practitioners alike.
We advise on all aspects of the shipping sector, from ship finance to dry shipping and comprehensive casualty handling, and everything that happens in between.