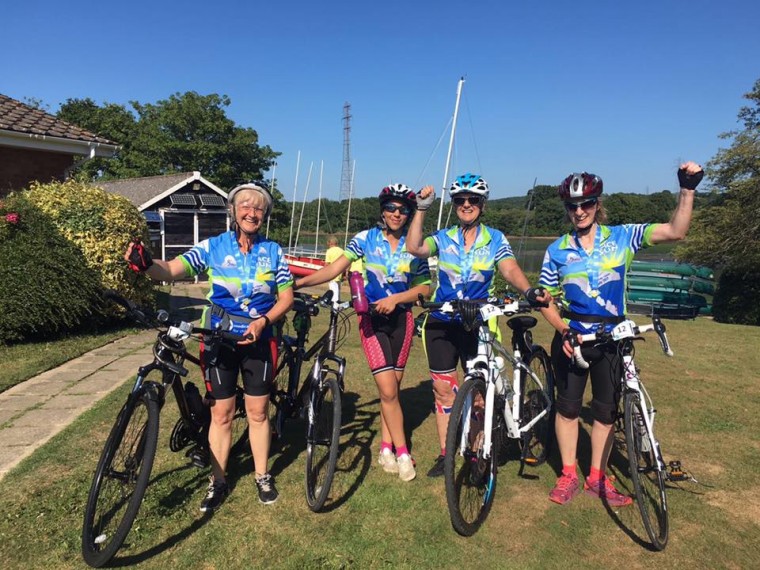 "It was a really well organised event with some stunning scenery." (L to R: Ruth Chaplin, Rania Scott, Sharon Nanson, Clare Pimm)

For the very first time in the charity's history, the Isle of Wight played host to one of Action Medical Research's 'Race The Sun' (https://www.action.org.uk/race-sun-isle-wight) team challenges.
Action is a UK-wide children's charity which funds desperately needed research to tackle the diseases that devastate the lives of so many of our children.
It organises and hosts a number of fundraising events across the UK, including the 'RTS' series which also run in the Brecon Beacons and Lake District.
A total of 49 teams took part on Saturday (8 July) and they are on track to collectively raise a total of more than £60,000.
Events Marketing Manager for Action Gina Campbell said: "That's an absolutely amazing figure. We were so looking forward to holding this event in the Isle of Wight for the first time and the weather and the scenery helped make it a day to remember.
"It's a really intense challenge but everyone looked so positive and upbeat throughout! The teams' training, perseverance and fundraising really paid off and their efforts really do make such a huge difference to us. Thank you!"
Teams of four started at minute intervals from 6am on the Saturday morning with a 25 mile cycle ride to New Battery. From there, it was a 12 mile trek along the Tennyson Trail before cycling 19 miles to the River Medina and then completing the course with a 1.5km canoe.
Following the event, an awards ceremony was held with the three fastest teams being recognised:
| | |
| --- | --- |
| EVERCORE 7 - CHEMICAL REACTION      | 7'10" |
| THE DADS ARMY | 7'23" |
| EVERCORE 2 - THOMAS AND THE DANK ENGINES | 7'45" |
There were also a number of other categories including 'Best Spirit' which was awarded to local Hampshire team 'Intrinsic Titchfield Dental' whose members all work at the dental practice near Southampton. Team captain Sharon Nanson said: "We choose a charity challenge every year and when we heard about this inaugural event on our doorstep we just knew we had to step up and support Action.
"It was a really well organised event with some stunning scenery. All us girls are absolutely shattered but it was worth it! We're just so pleased to help such a worthy cause."
Action Medical Research has been funding medical breakthroughs since it began in 1952 including helping to introduce the first polio vaccines in the UK, developing the use of ultrasound in pregnancy and testing the rubella vaccine.
The charity is currently funding research into conditions including asthma, prematurity, epilepsy, meningitis, cerebral palsy, brain cancer and some rare and distressing conditions.
- ENDS -
To download a picture of Intrinsic Titchfield Dental:
https://www.action.org.uk/sites/default/files/downloads/press/titchfield_dental_health.jpg
(L to R: Ruth Chaplin, Rania Scott, Sharon Nanson, Clare Pimm)
NOTES TO EDITORS:
Race the Sun: Lake District has been running since 2003.
Race the Sun: Brecon Beacons has been running since 2013.
For more information on Action Medical Research, contact Peter Denton, Fundraising Communications Officer, on:
T: 01403 327480
E:pdenton@action.org.uk
W: action.org.uk
Follow us on Twitter at @actionmedres and @amr_events  
Like our Facebook page at facebook.com/actionmedres
Follow us at pinterest/actionmedres
Action Medical Research is a leading UK-wide charity saving and changing children's lives through medical research. For 65 years we've helped pioneer ways to prevent disease and develop treatments benefiting millions of people. Our research has helped to beat polio in the UK, develop ultrasound in pregnancy, fight meningitis and prevent stillbirths. But we urgently need to develop more new treatments and cures for sick babies and children and we can't do it without you.
Join our fight for little lives today.
Charity reg. nos 208701 and SC039284.