Archived
Please note, this page may contain outdated information or subject matter.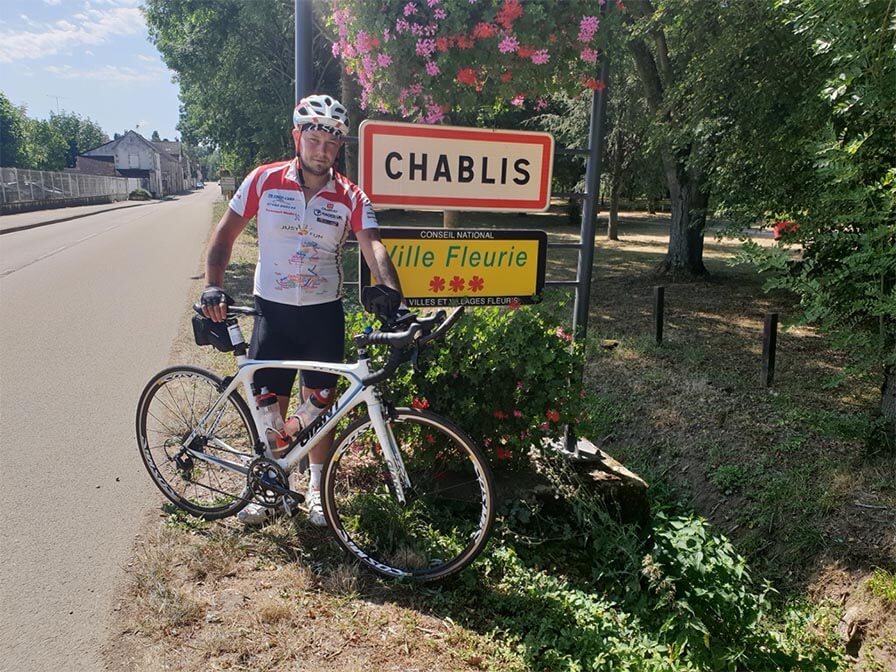 Dan Sinclair has done it!
The 29-year-old Sales Manager has completed the Action Medical Research London-Geneva charity bike ride.
"It was fantastic but the scorching temperatures made things difficult at times" admits the Swindon resident. "It often went above 40C and so staying hydrated was key. That and lots of suntan lotion."
Dan set off from London on 25 July with three work colleagues to tackle the first leg of his challenge: cycling from London to Paris.
Having arrived in the French capital on Saturday 28 July, he then continued towards Geneva before returning home on Friday 3 August.
"The lads and I from 'Cross Street Garage' all had a great time and enjoyed the French trip; I've actually done that ride for Action once before and so I wanted to push myself that bit further."
Dan has set himself the challenge of raising £20,000 by completing four physical challenges in 2018 for Action Medical Research.
He's fundraising in memory of his baby daughter Scarlett: "My partner Emma and I were blessed with twin girls around five years ago. Both Millie and Scarlett were born with Necrotizing enterocolitis (NEC).
"I had never heard of the condition, but when it affects your little ones you quickly learn.
"Sadly Scarlett passed away. We were absolutely devastated."
Having completed the Trek the Night: Cotswold Way ,'London to Paris' and 'Paris to Geneva' challenges only one more stands in his way: the Race The Sun: Lake District in September.
Action's Head of Events Emma Morgan said: "Dan is one of our most passionate supporters and we are so grateful for everything that he is doing to not only raise funds but also awareness of Action.
"We're so pleased he enjoyed the London to Geneva bike ride and look forward to seeing him in the Lake District for his fourth and final challenge!"
Action is a UK-wide children's charity which funds desperately needed research to tackle the diseases that devastate the lives of so many of our children. It has been funding medical breakthroughs since it began in 1952 including helping to introduce the first polio vaccines in the UK, developing the use of ultrasound in pregnancy and testing the rubella vaccine.
The charity is currently funding research into areas including premature birth, epilepsy, asthma, scarlet fever, cerebral palsy, brain cancer and some rare and distressing conditions.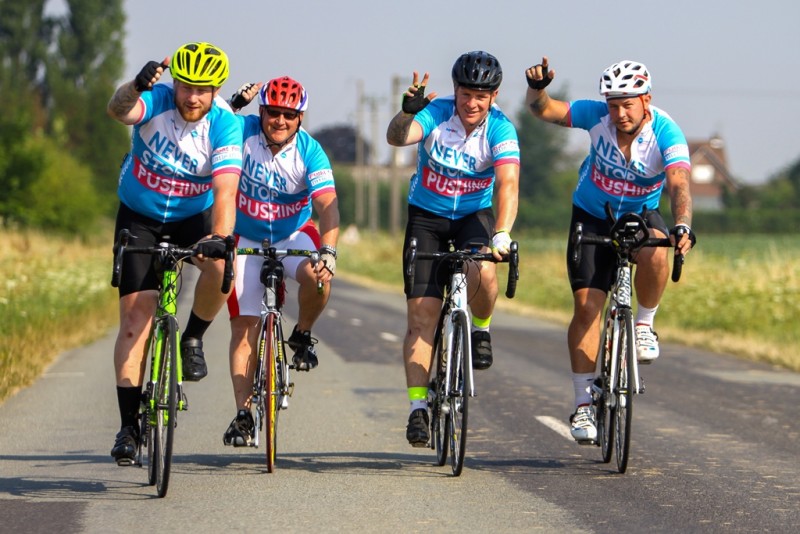 -ENDS-
NOTES TO EDITORS:
Further reading
There is a short Q&A with Dan on the Action website:
https://www.action.org.uk/blog/2018/07/24/four-fundraising-challenges-four-months
Read more about NEC and the research Action is funding:
https://www.action.org.uk/research/necrotising-enterocolitis-protecting-newborn-babies-life-threatening-bowel-problem
This is a follow-up press release to the one sent on 19 July (https://www.action.org.uk/press-release/swindon-cyclists-gear-european-charity-challenge)
Photos
To download a photo of the Cross Street Garage Team in France (please credit Lee Collier Photography for both):
https://www.action.org.uk/sites/default/files/downloads/press/l2p18_crossstreet_thumbs_rs.jpg
(L-R: Mark Waring-Jones, Trevor Foster, Shaun Rudman, Dan Sinclair)
https://www.action.org.uk/sites/default/files/downloads/press/l2p18_crossstreet_bikes_celebration_rs.jpg
To download a photo of Dan Sinclair:
https://www.action.org.uk/sites/default/files/downloads/press/dan_sinclair.jpg
For more information on Action Medical Research contact Peter Denton, Fundraising Communications Officer, on:
T: 01403 327412
E:pdenton@action.org.uk
W: action.org.uk
Follow us on Twitter at @actionmedres and @amr_events  
Like our Facebook page at facebook.com/actionmedres
Follow us on Instagram at @actionmedres and @actionevents
Action Medical Research is a leading UK-wide charity saving and changing children's lives through medical research. For more than 65 years we've helped pioneer ways to prevent disease and develop treatments benefiting millions of people. Our research has helped to beat polio in the UK, develop ultrasound in pregnancy, fight meningitis and prevent stillbirths. But we urgently need to develop more new treatments and cures for sick babies and children and we can't do it without you.
Join our fight for little lives today.
Charity reg. nos 208701 and SC039284.