Tony Hadley – solo artist and former lead singer of 80s sensation Spandau Ballet – swapped his microphone for a golf club on Friday 15 September.
The singing star once again lent his support to children's charity Action Medical Research by hosting his annual 'Golf Classic' sponsored by Quai Administration Services.
Organised by Action Medical Research's Peterborough Committee, this year's theme was 'It's Just A Question of Sport'.
The fun started on Thursday evening (14 September) with a pub quiz at the 'Holiday Inn Peterborough West' which was hosted by one of BBC's Eggheads Dave Rainford!
On Friday, the main event was held at the 'Elton Furze Golf Club' in Haddon. As well as the featured golf competition, there were also a number of 'bonus' contests along the way which included:
The 'Kell Ryan Trophy' "for the "Longest Drive with a Hickory Club" on hole 13.
A Champagne Putting Competition organised by Mashie Golf
'Beat The Pro' with Dean Davis on hole 5, inviting competitors to beat his shot onto the green.
Among the players helping to raise money for Action were actor Ricky Groves, Eddie 'The Eagle' Edwards and singer Tony Christie.
Following the golf, a four course Gala dinner was held at the Holiday Inn West. Various awards were handed out from the earlier golf competition and guests were entertained by TV auctioneer David Palmer, who even auctioned one of his famous waistcoats! There was also a silent auction run by Carita Services.
Singer Emily Haigh and comedian Kev Orkian both then took to the stage before Cole Page joined Tony Hadley for a duet.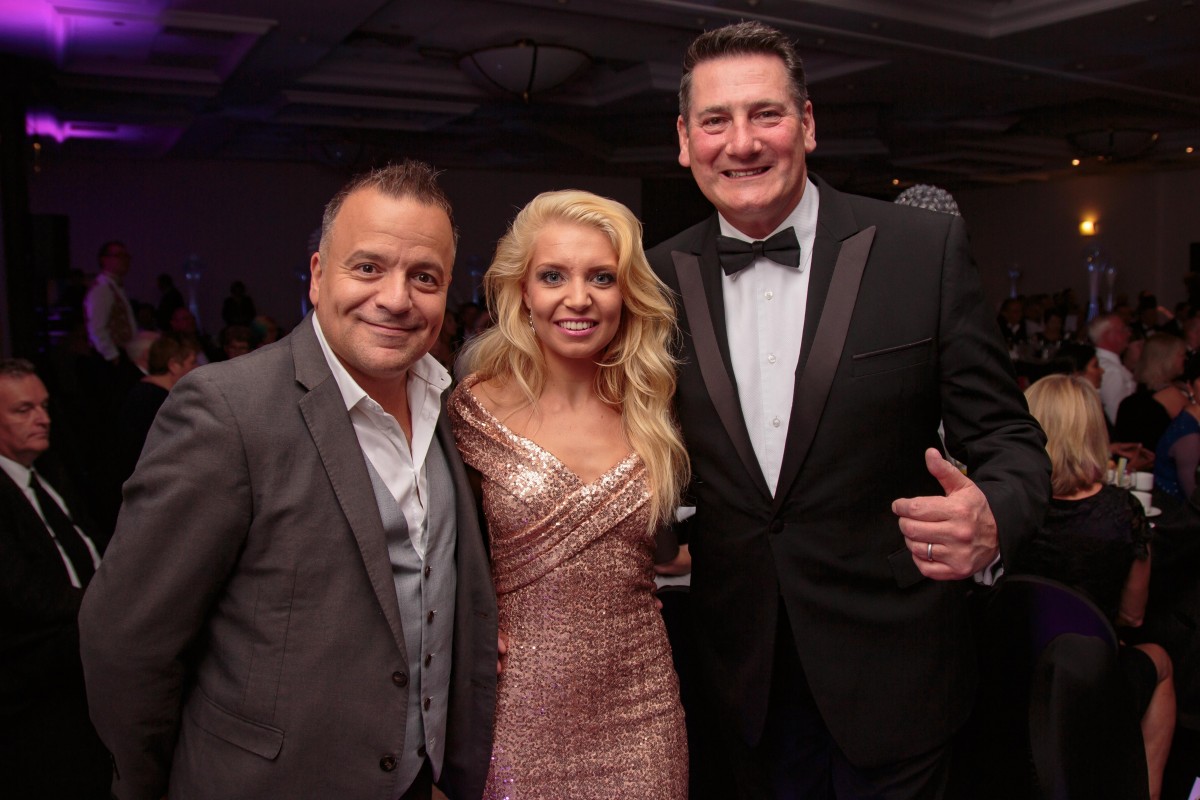 Kev Orkian, Emily Haigh and Tony Hadley at the gala dinner
Speaking after the event, Tony Hadley said: "Well, what an amazing day! I have to say it was brilliantly organised once again by the Peterborough Committee and everyone had such a great time.
"I am honoured and proud to be associated with Action Medical Research and the great work they do. Last year raised £28,000 for the charity and I'm hoping that once all the cash is collected we'll have beaten that this year. I'm looking forward to 2018 already!"
The Tony Hadley Golf Classic 2017 was supported by Quai Administration Services and Boongate Kia.
Action Medical Research is a UK-wide children's charity which funds desperately needed research to tackle the diseases that devastate the lives of so many of our children. It has been funding medical breakthroughs since it began in 1952 including helping to introduce the first polio vaccines in the UK, developing the use of ultrasound in pregnancy and testing the rubella vaccine.
The charity is currently funding research into conditions including asthma, prematurity, epilepsy, meningitis, cerebral palsy, brain cancer and some rare and distressing conditions.