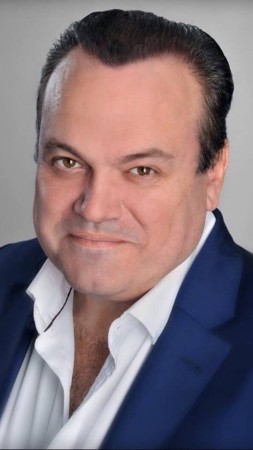 Local star Shaun Williamson – known affectionately by millions as Barry from Eastenders – will be dusting off his DJ to play host to a charity party night near Maidstone.
The actor, singer, media personality and presenter will be MC at the Kent Party Night for children's charity Action Medical Research.
"It was an honour to be asked" says the 52-year-old co-star of comedy TV show Extras. "There will be a bit of bubbly - and Bublé – as well as me to try and steer things along as smoothly as I can.
"It's all for a fantastic cause, so hopefully we can raise lots of money for Action."
The Kent Party Night is being held at the Mercure Hotel from 7.30pm on Friday 5 October.
As well as welcome drinks and a delicious three course meal there will be live musical entertainment from former Mr England Jordan Williams who will perform his amazing Michael Bublé tribute act.
Action's Community Fundraising Manager for Kent, Paula Ray, says she can't wait: "We've been lucky enough to have Jordan sing at a number of Action fundraising events across the UK and he never fails to bring the crowd to their feet.
"To have both him and Shaun Williamson performing for us in Kent is a real treat and I can't wait to see everyone there."
Tickets for the Kent Party Night are now on sale.
A table of ten costs £500 and can be booked online or via email midkentaction@gmail.com
Action Medical Research is a UK-wide children's charity which funds desperately needed research to tackle the diseases that devastate the lives of so many of our children. It has been funding medical breakthroughs since it began in 1952 including helping to introduce the first polio vaccines in the UK, developing the use of ultrasound in pregnancy and testing the rubella vaccine.
The charity is currently funding research into areas including premature birth, epilepsy, asthma, scarlet fever, cerebral palsy, brain cancer and some rare and distressing conditions.
-ENDS-
NOTES TO EDITORS:
Photos
To download a photo of Shaun Williamson:
https://www.action.org.uk/sites/default/files/downloads/press/shaun_williamson.jpg
To download the Action logo:
https://www.action.org.uk/sites/default/files/downloads/press/action_medical_research_logo.jpg
For more information on Action Medical Research contact Peter Denton, Fundraising Communications Officer, on:
T: 01403 327412
E:pdenton@action.org.uk
W: action.org.uk
Follow us on Twitter at @actionmedres and @amr_events  
Like our Facebook page at facebook.com/actionmedres
Follow us on Instagram at @actionmedres and @actionevents
Action Medical Research is a leading UK-wide charity saving and changing children's lives through medical research. For more than 65 years we've helped pioneer ways to prevent disease and develop treatments benefiting millions of people. Our research has helped to beat polio in the UK, develop ultrasound in pregnancy, fight meningitis and prevent stillbirths. But we urgently need to develop more new treatments and cures for sick babies and children and we can't do it without you.
Join our fight for little lives today.
Charity reg. nos 208701 and SC039284.