Linda Blakely: Businesswoman, athlete, adventurer and philanthropist, is embarking on a solo row across the Atlantic Ocean to support rare disease research
Linda Blakely, a remarkable businesswoman, Ironman Champion, long-distance triathlete, and Everest Summiteer, is preparing to embark on her most challenging adventure yet: a solo row across the Atlantic Ocean. Linda's mission goes beyond personal accomplishment as she seeks to raise awareness and funds for Action Medical Research's special campaign focused on children's rare diseases.
Born in Lurgan, Northern Ireland, Linda's  journey is a testament to perseverance, determination, and the power of pursuing one's passions. After establishing three children's homes in London that provide essential support for young people with emotional and behavioural issues, as well as learning disabilities, Linda's impact on the lives of vulnerable individuals and their families has been truly transformative. Her extraordinary story showcases how one person's passion and drive can make a significant difference in the world.
As an accomplished amateur athlete, Linda has achieved remarkable feats. She has competed in multiple Ironman events worldwide, consistently securing the top spot in her age group. Linda has also represented Team GB in long-distance triathlons, earning a silver medal in her age group at the Europeans. In 2018, she faced an even greater challenge, successfully summiting both Everest and Lhotse within a day, joining an elite group of only four women worldwide who have accomplished this traverse.
Undeterred by her past achievements, Linda has set her sights on her next extraordinary endeavour: a solo row across the Atlantic Ocean. This gruelling challenge will test her physical and mental limits as she aims to break the current world record. Linda's indomitable spirit and unwavering commitment will fuel her as she rows 3,000 miles in her Rannoch 10 boat, aptly named Ulster Warrior.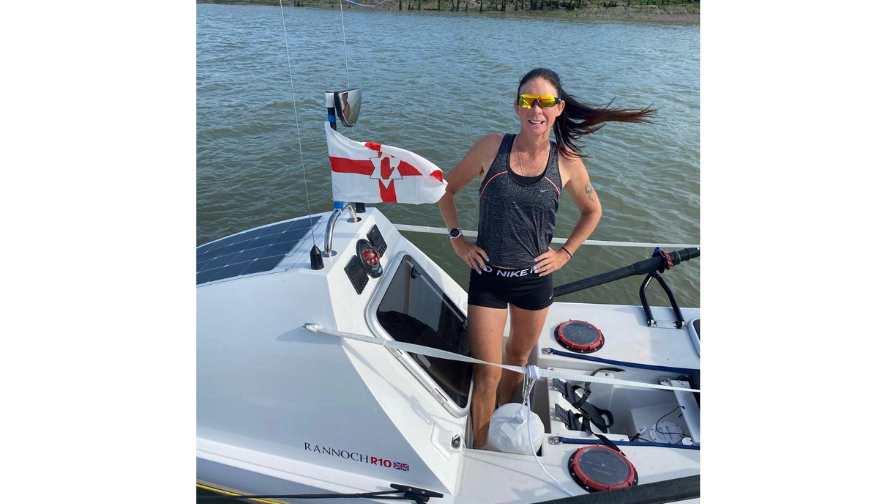 "I am ready for my next challenge which is the toughest one yet. Training is progressing well, with the aim of setting a new Atlantic crossing record for a solo female rower. Raising funds for Action Medical Research will make this even more special and together we are focussed on delivering as much as possible to help fund rare disease research for children," says Linda.
However, Linda's record-breaking attempt is about more than personal triumph. She aims to raise funds in excess of £100,000 for children's charity Action Medical Research. Her epic row will shed light on rare forms of epilepsy, with each of her 1.5 million oar strokes dedicated to children like 3 year old, the daughter of one of her Children's Homes Managers, who is very ill with an extremely rare genetic disease SMC1A. By supporting Linda's Atlantic row, individuals can contribute to vital research that offers hope and optimism to children and their families.
Linda's ambitious challenge is scheduled to commence in early 2024. She is committed to surpassing the current solo crossing record, for a woman, of 40 days and 19 hours. As she prepares to embark on this journey, she invites everyone to join her in supporting Action Medical Research's campaign and helping transform the lives of children battling rare diseases.
Action Medical Research is a UK-wide children's charity which funds desperately needed research to tackle the diseases that devastate the lives of so many of our children. It has been funding medical breakthroughs since it began in 1952 including helping to introduce the first polio vaccines in the UK, developing the use of ultrasound in pregnancy and testing the rubella vaccine.
It is now driving forward children's research into conditions including epilepsy, prematurity, meningitis, cerebral palsy, brain cancer and some rare and distressing conditions. Learn more here: www.action.org.uk.
You can donate to Ulster Warrior's Just Giving page here:
https://www.justgiving.com/campaign/ulsterwarrior
Images of Linda and Ulster Warrior are available to download here.