Children's charity Action Medical Research is delighted to be teaming up with Pedal Taiwan for the ultimate virtual cycling challenge on November 21. The event will see riders from all over the UK, plus two big-name cyclists, tackle a section of one of the world's longest and toughest climbs, the famous Taiwanese KOM challenge – all from the comfort of their own homes.
In a year that has seen most cycling events cancelled or restricted due to COVID-19, don't let lockdown blunt you taste for adventure! This unique challenge is a free event on virtual ride platform Rouvy, giving participants the chance to race virtually through the central Taiwanese mountain range.
The event will also give you the opportunity to compete on behalf of your club – and against round-the-world cyclist record breaker, Mark Beaumont BEM, National Time Trial champion and Grand Tour stage winner, Alex Dowsett, or the 2019 British National Hill Climb Champion, Ed Laverack. The fastest competitors will then be invited to a Final event in December, with a coveted winner's trophy for the top male and female riders. There will also be a club leaderboard, with Garmin kit for the winning team.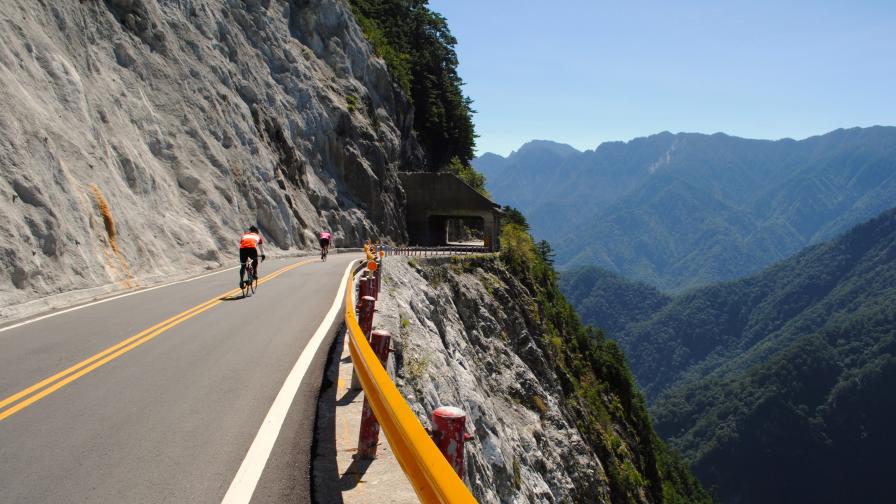 To participate all you need is a laptop, mobile or desktop device, in addition to a turbo trainer or smart bike. Riders will be able to sign up for a free one-month membership on Rouvy, so it won't cost anything to take part. Instead all participants will be asked to make a donation to Action Medical Research.
Event organiser, Rob Hodkinson from Pedal Taiwan says: "In a time when people aren't able to travel the world, we want to offer cyclists the opportunity to experience what it's like to ride through sections of Taiwan. 2020 has also been a bad year for cyclists who enjoy racing, so Pedal Taiwan wants to showcase an event that gives an opportunity to exercise that competitive streak.
"It's also been a really tough year for charities, so we're very proud to be doing this in support of Action Medical Research and the vital work that they do to change children's lives through medical research," adds Rob.
Action Medical Research is a charity that has for many years had a special focus on fundraising through cycling. Sarah Stevenson, Senior Partnerships Development Manager, at the charity says: "In a year when so many of our events have had to be cancelled, we are absolutely thrilled to be benefiting from this unique and exciting challenge.
"Funds raised from this event will go towards our COVID-19 children's research appeal. Although children appear to be less severely affected by the virus than adults, it can still affect them significantly and some can be very ill. We also don't know what the long-term effects on children might be. There's a big gap in the research to better understand the impact on children."
Action Medical Research is a UK-wide children's charity which funds desperately needed research to tackle diseases that can devastate the lives of children. It has been funding medical breakthroughs since it began in 1952, including helping to introduce the first polio vaccines in the UK, developing the use of ultrasound in pregnancy and testing the rubella vaccine.
The charity is now driving forward research to help protect children in the fight against COVID-19.
For more details about the Pedal Taiwan Virtual Cycling Race and to sign up, visit pedaltaiwan.com/the-pedal-taiwan-virtual-cycling-race/

Ends
Notes to editors:
The event logo and accompanying images can be found here:
https://www.dropbox.com/sh/6gq0n4wfu3t8lxh/AABTQ76rsQp-nn2y_eR9Zznma?dl=0
Action Medical Research
Please contact Clare Airey
T: 01403 327425
Follow us on Twitter at @actionmedres and @amr_events   
Like our Facebook page at facebook.com/actionmedres
Follow us at pinterest/actionmedres
Action Medical Research is the leading UK-wide charity saving and changing children's lives through medical research. For more than 65 years we've helped pioneer ways to prevent disease and develop treatments benefiting millions of people. Our research has helped to beat polio in the UK, develop ultrasound in pregnancy, fight meningitis and prevent stillbirths. But we urgently need to develop more new treatments and cures for sick babies and children and we can't do it without you.
Join our fight for little lives today.
Charity reg. nos 208701 and SC039284.
About Pedal Taiwan
Pedal Taiwan specialises in delivering bespoke cycling trips for anybody who wants to explore the wonders of Taiwan. Whether you want to ride through pristine marble gorges, along untouched palm tree sands, climb the famous Taiwan KOM Challenge, or simply enjoy a home-made bowl of Lu Rou Fan, our local ride leaders and support crew are here to give you a cycling adventure with an authentic taste of our island paradise.