Construction and property development company Willmott Dixon will be taking people back to where it all started for the inaugural Willmott Dixon Classic in aid of children's charity Action Medical Research.
The company is aiming to raise £50,000 on Friday, 23 September, with up to 200 riders completing a route across Hertfordshire and south Cambridgeshire that takes in the village of Bassingbourn where Willmott Dixon was founded in 1852 after John Willmott was appointed to build a 12-foot well at the nearby Wimpole estate, which is also included in the route.
Starting from The Heath Sports Centre in Royston, the Willmott Dixon Classic offers two routes for riders designed by Action Medical Research's cycling experts: a rolling 85-mile ride or a shorter 68-mile option.  Both are set in the glorious Hertfordshire countryside and take in several Willmott Dixon landmarks, along with peaceful rural roads, picturesque villages and a few rolling hills.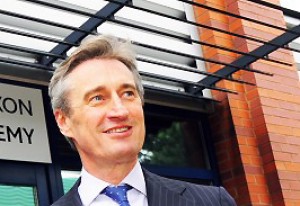 Rick Willmott (pictured above), Group Chief Executive and a direct descendent of John Willmott, says: "We invest over £2.5 million a year in the community and have a goal to improve 10,000 young lives by 2020, so contributing to society's well-being is part of our DNA.
"This ride will raise important funds to support the excellent work of Action Medical Research and I'm delighted we are linking it with our history to give riders, who will comprise of staff, clients, consultants and our suppliers,  a chance to see where it all started for us over 160 years ago."
As well as offering corporate fundraising rides, Action Medical Research organise the popular RIDE100 series of one-day bike rides that take place in fantastic cycling locations across the UK.
With the help of its supporters, the UK-wide children's charity has played a significant role in many medical breakthroughs since it began in 1952, from the development of the first UK polio vaccines to the use of ultrasound in pregnancy.
It is currently funding research into meningitis, Down syndrome, epilepsy and premature birth, as well as some rare and distressing conditions that severely affect children.
To find out more about the Willmott Dixon Classic, please visit action.org.uk/willmott-dixon-classic
- ENDS -
NOTES TO EDITORS:
For more information on Action Medical Research, please contact Ellie Evans, Fundraising Communications Officer, on:
T 01403 327480
Follow us on Twitter at @actionmedres and @amr_events  
Like our Facebook page at facebook.com/actionmedres
Follow us at pinterest/actionmedres
Action Medical Research is a leading UK-wide charity saving and changing children's lives through medical research. For more than 60 years we've helped pioneer ways to prevent disease and develop treatments benefiting millions of people. Our research has helped to beat polio in the UK, develop ultrasound, fight meningitis and prevent stillbirths. But we urgently need to develop more new treatments and cures for sick babies and children and we can't do it without you.
Join our fight for little lives today.
Charity reg. nos 208701 and SC039284.
More on Willmott Dixon:
• As a contractor, we work with government, local authority and private sector clients, delivering capital projects in education, justice, retail, health and social housing.  We also deliver interior design and fit-out services, plus sustainability consultancy to meet the low carbon challenges we all face.
• As a developer, we develop high quality residential units for sale through our company Prime Place, often as part of mixed-use projects and, through Be: here, we are involved in developing and managing residential accommodation for the private rental sector.
• As a property maintainer, we deliver a range of planned, preventative and responsive care to property, which includes maintaining over 110,000 homes across the UK and providing a fast efficient service to a number of commercial brands. We are also an official ECO provider with an in-house expertise to improve energy efficiency for residents and corporate property owners alike.