A group of colleagues from Worcestershire have successfully completed a 55-mile cycling challenge for children's charity Action Medical Research.
George Brown, 29, from Droitwich led a team of seven from Cold Clad Ltd along the 'Taff Trail Challenge' in Wales on Saturday, 23 September.
The route is a mainly off-road trail from Brecon to Cardiff that takes in a canal towpath, mountain fire roads and single-track trail.
Speaking afterwards George said: "The first 10 miles were nice and flat, which served as a good warm up. However once we go to Talybont Reservoir there was a climb of six miles up over the mountain which sapped a lot of energy, but we made it to the top and were rewarded with a very fast downhill section!
"Unfortunately one of the guys suffered with some serious cramp later in the ride and couldn't physically make it past the 42-mile mark. Once we arranged to have him safely picked up, the rest of us continued down to Cardiff Bay.
"We had a great day and - despite the pain - thoroughly enjoyed it! We're delighted to have raised so much money for Action and are now planning our next charity ride."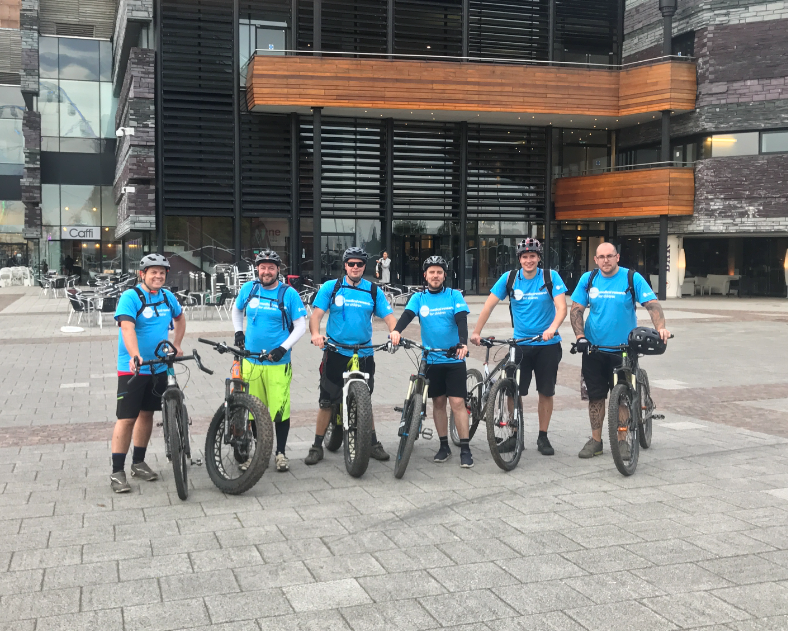 The team pose in Cardiff Bay (L-R: Neil Bailey, Jon Pitman, Gareth Pitman, Jim Campbell, George Brown, Richard Cooke)
The team's still totting up all of their paper sponsor forms but hope that these - combined with their Just Giving donations - will be enough to beat their £1,000 target!
George decided to raise money for Action Medical Research after his mother, Judy, started up a local committee for the charity back in May.
Her first fundraising event is being held on Saturday 18 November and Judy says she can't wait: "It's a fascinating talk called 'What The Officer Saw Next' which promises to be an amusing insight into the Judicial Service seen through the eyes of an ex police officer and Magistrate!
"Tickets are £12.50 which will include a fish & chip supper and pudding – we'd love to see you there!"
The talk is being supported by Merchants and will be held at Hampton Lovett Village Hall from 7pm.     
If you would like to book tickets –or get involved with fundraising in the Droitwich area - you can contact Judy via email judy295@outlook.com
For more volunteering opportunities across Worcestershire contact the county's Community Fundraiser Tracey Edwards tedwards@action.org.uk
Action Medical Research has been funding medical breakthroughs since it began in 1952 including helping to introduce the first polio vaccines in the UK, developing the use of ultrasound in pregnancy and testing the rubella vaccine.
The charity is currently funding research into conditions including asthma, prematurity, epilepsy, meningitis, cerebral palsy, brain cancer and some rare and distressing conditions.