Archived
Please note, this page may contain outdated information or subject matter.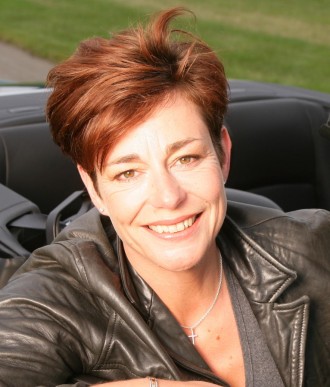 An inspirational story from homeless teen to champion rally driver: Action Medical Research is delighted to announce Penny Mallory as the guest speaker at the charity's 21st 'Aberdeen Ladies Lunch'.
Penny left home at just 14 and lived in homeless hostels in London before eventually working her way to becoming a sound engineer and a graphic artist.
A chance event allowed her to realise a childhood dream of driving a rally car and she was hooked. Within four years of sitting in her first rally car Penny became National Ladies Champion and drove everything from Mk2 Escorts, Sierra Cosworths to Escort Cosworths.
An accomplished Keynote Speaker, Event Host and a familiar TV Presenter, Penny says she can't wait to come to Aberdeen: "I'm so excited to be a part of this esteemed event for Action. The charity does some incredible work funding vital research across the UK to help young children.
"I'm really looking forward to meeting all the ladies and enjoying a glass of wine or two before sharing my adventures with everyone!"
This year's Aberdeen Ladies Lunch is being held at the prestigious Marcliffe Hotel and Spa on Thursday 15th March.
Guests will enjoy a drink on arrival at midday followed by a two course meal with wine.
This event has become one of the most important and inspirational events held in Aberdeen for the charity.
The charity's Community Fundraising Manager for Scotland Janet Balcombe says: "I cannot believe this will be our 21st year! We never cease to be amazed at the generosity of our guests and we truly hope they'll enjoy the splendour of the five-star venue.
"We're so pleased Penny accepted our invitation to come and speak to us; hers is such an inspiring story and one which I think everyone will remember for quite some time."
Tickets are £40 per person and can be bought from Janet on 01505 864334 or email janet@action.org.uk
Action Medical Research has been funding medical breakthroughs since it began in 1952 including helping to introduce the first polio vaccines in the UK, developing the use of ultrasound in pregnancy and testing the rubella vaccine.
The charity is currently funding research into conditions including asthma, prematurity, epilepsy, meningitis, cerebral palsy, brain cancer and some rare and distressing conditions.
Research is currently underway into how children with asthma are treated, with both the University of Aberdeen Centre for Paediatrics and University of Dundee Pat Macpherson Centre for Pharmacogenetics involved.
-END-
NOTES TO EDITORS:
To download a photo of Penny:
https://www.action.org.uk/sites/default/files/downloads/press/penny_mallory_hr.jpg
You can find out more about the Scottish universities' involvement with the asthma research here:  
https://www.action.org.uk/research/asthma-could-personalised-treatment-improve-childrens-quality-life
For more information on Action Medical Research, contact Peter Denton, Fundraising Communications Officer, on:
T: 01403 327412
E: pdenton@action.org.uk
W: www.action.org.uk
Follow us on Twitter at @actionmedres and @amr_events 
Like our Facebook page at facebook.com/actionmedres
Follow us on Instagram at @actionmedres and @actionevents 
Action Medical Research is a leading UK-wide charity saving and changing children's lives through medical research. For more than 65 years we've helped pioneer ways to prevent disease and develop treatments benefiting millions of people. Our research has helped to beat polio in the UK, develop ultrasound in pregnancy, fight meningitis and prevent stillbirths. But we urgently need to develop more new treatments and cures for sick babies and children and we can't do it without you.
Join our fight for little lives today.
Charity reg. nos 208701 and SC039284.