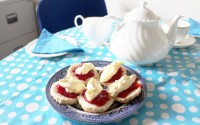 Join us for our easiest, tastiest fundraising event on Thursday 28 June. All you need to do is get a group of friends or work colleagues together and place your order online.
Our Action Cream Teas boxes are filled with everything you need for a perfect tea-break treat, delivered direct to your door.
Best of all, every bite enjoyed helps us raise vital funds to save and change children's lives.