We're very fortunate to have a huge number of passionate and dedicated volunteers across the UK, without whom we really couldn't do what we do. Gill Murray from South Lanarkshire in Scotland has spent the last 16 years as one of Action's 'School Champions' and her hard work has been officially recognised. Last summer (2018) the 54-year-old beauty therapist was named in the Queen's Birthday Honours List and she was presented with her MBE at Buckingham Palace in January. We caught up with Gill to find out more about her love for Action and who she bumped into in London.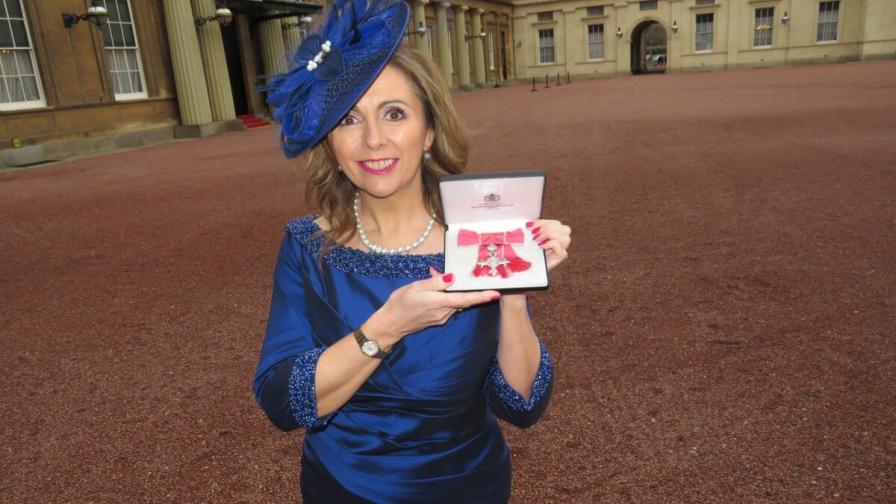 Gill Murray received her MBE for Services to Charity on Thursday 31 January 2019.
Gill, firstly a huge congratulations! You must be thrilled.
Thank you! It's a surreal experience. I can remember getting the news back in May 2018 and having to keep it quiet for about a month before it was made public. I still can't quite believe it. And then the Investiture at Buckingham Palace was just something else – an experience I'll cherish for the rest of my life.
 
Tell us about the ceremony: who presented you with your MBE and did you spot any other famous faces?
It truly was the most amazing day from start to finish. My husband and two daughters were there with me sitting in the Grand Ballroom at Buckingham Palace. I am really delighted about that, as all three of them have helped me over the last 16 years with the fundraising for Action Medical Research.The presentation was conducted by HRH The Duke of Cambridge who was very interested to learn about the charity, and the part I played in it.
 
Let's talk about your involvement with Action: how and when did you first become aware of the charity?
Well, it would have been around 2002 I think. My two girls were in primary school at the time and the local Action Medical Research committee was looking at ways to reach schools in the area. The 'Bring Your Bear' initiative had proved quite popular in England and they were hoping to emulate that success up here. I was approached by a friend of mine and once I'd read a bit more about the charity I jumped at the chance to help.
 
And you enlisted our mascot to help you!
Ha – that's right, yes! I arranged for Paddington Bear™ to come and visit some of the children that first year and it's now become an annual thing. We now go to schools across the South Lanarkshire area.
 
Those assemblies have helped raise a tremendous amount for us over the years…
Well, yes they haven't done too bad! I think we're looking at around £25,000. We just ask the children to bring in a pound for the charity. I do a little presentation about Action to help explain how the funds help and as a bonus they get to meet Paddington! He really does appeal to all ages. Our primary schools in Scotland range from primary 1 to 7 so we have pupils as old as 12 as well as toddlers getting excited to meet him!
 
You're one of our most dedicated ambassadors - what has driven you to keep supporting us?
My sister actually had a premature baby and suffered with pre-eclampsyia twice. My niece is now a happy, healthy 27-year-old woman but at the time it was very worrying for all of us. Being a Mum of two girls myself I guess it's those personal experiences that have helped me appreciate the work that Action does.
The fact that the charity looks to fund research into such a wide variety of conditions really interests me. And of course when I walk into an assembly room I think that every person in there has benefitted in some way from Action's work: whether it be the Polio vaccine or the development of ultrasound… it's amazing when you think of all the work Action's done in the past sixty-odd years.
 
We're always looking for new volunteers to help across the UK; why do you think people should consider lending a hand?
I would say that everybody has it within them to help someone. It's an incredibly rewarding role and if you do have any spare time – or can make spare time – it's just such an incredibly worthwhile cause. The staff are very friendly; I'm on the phone to them quite a bit whenever I'm sorting out my next assembly and I do feel very supported, I would especially like to thank Cecilia Cooper for all her help and support. I'd encourage anyone reading this to get involved and just do it. Take action and help Action. There you go, there's a nice tag line for you!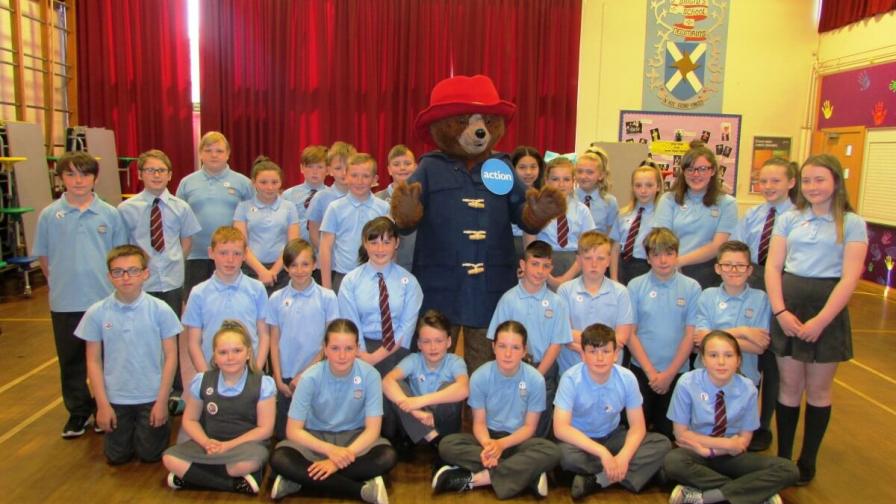 A school assembly with a very special visitor!