As Aiden, who is four, reaches the end of his latest round of intense therapy to help with his cerebral palsy in L.A., mum Fleur and dad Keith have sent us an update. We're so pleased to hear it's been another successful trip.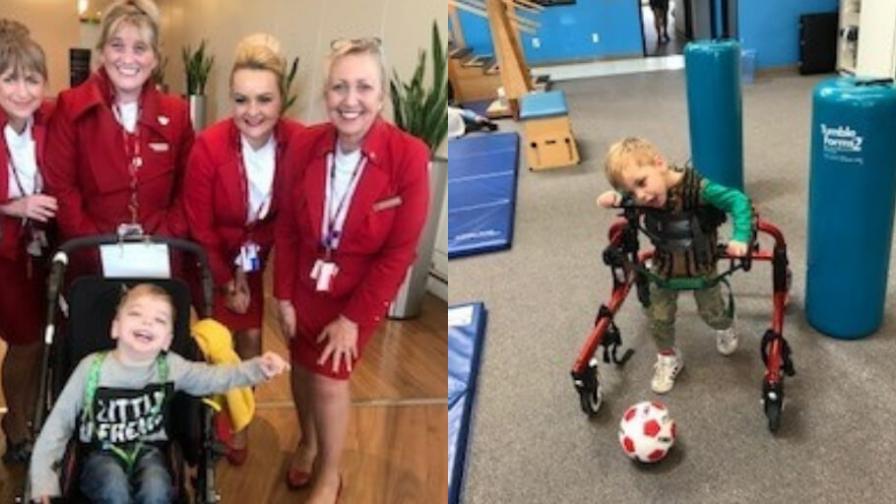 We've seen big improvements.The therapy is so intense that Aiden progresses by around three to six months over the few weeks we are here. We had a good flight over and Aiden charmed all those he met including the airport and airline crew and an American football team we met on arrival at our hotel!

This time we've focused on strengthening Aiden's legs, arms, trunk control and communication. We also added in feeding therapy to help Aiden eat and swallow plus we've seen a chiropractor to help ease tension in his hips and tight muscles.

It's not easy asking a four-year-old to endure over 20 hours of therapy a week for three weeks, but we reward Aiden's hard work with some fun time on the weekends.
This time round he's been lucky enough to take in a soccer game at L.A. Galaxy, a baseball game at L.A. Dodgers plus a tour of the Dodgers stadium and a visit to the Harry Potter world at Universal Studios plus other fun stuff.

I won't lie, it's still hard for us as parents to accept Aiden's condition of cerebral palsy but with continued support we know he will grow and grow in strength and live his best life.