Archived
Please note, this page may contain outdated information or subject matter.
Action funded researcher Dr Pablo Lamata explains how his work developing 3D computer models of babies' hearts to help surgeons save and improve tiny lives is both thrilling and motivating…
                                       
What inspired you to investigate this particular area?
Hello, I am Pablo and I am an engineer working in a hospital in order to improve the detection and cure of cardiac diseases. Working in this area is thrilling, the vision of delivering a tool that will help clinicians to improve life expectancy and quality is extremely motivating. But it takes a lot of effort and time, and the qualities of perseverance and endurance are critical here!

What does Action funding for this study mean to you?
Action Medical Research has funded my first research project as Principal Investigator, and this has meant a lot for my personal career. As a young researcher I am like an entrepreneur who needs to do everything to find his way through the competitive academic jungle. Getting the support of Action Medical Research has been an external recognition of the value of the ideas and goals we are pursuing. And it is indeed a great motivational push for all the team!
What does a typical day look like for you … or is every day different?
We spend our day working at our computers developing analysis tools and in the lab where we test new data acquisition strategies. In our work it is critical to be close to our clinical collaborators and be able to meet them easily, in order to discuss ideas and solutions.

Can you tell us a bit about your team?
At King's College London, within the Department of Biomedical Engineering, I lead the Computational Modelling and Imaging Biomarkers group. We are a team of engineers, mathematicians and computer scientists based at St Thomas' Hospital in London engaging with cardiologists and surgeons in our research job.
One interesting aspect of our work life is the multi-national nature of the team and our collaborators. I am a Spaniard, and I bring optimism and motivation to the team; I believe that we all contribute with complementary cultural values.
Who's your research hero, and why?
My heroes are all those anonymous nurses and doctors who work extremely hard every day to fight for life. The memory of the beloved ones that are gone, the support from my family, and the sunshine from my kids Marcos and Eva, are my key personal pillars.
As a charity, Action began in 1952 with our founder's quest to find a cure for polio. What led you to a career in medical research?
I have always felt fascination for the technologies that support our life and cure disease. My parents and sister are clinical doctors and since I finished my BSc and MSc engineering degree I have worked on biomedical engineering problems.
Action's loyal and lovable mascot Paddington Bear™ is very fond of marmalade sandwiches. What's your favourite snack?
One of my tricks to boost our dialogue is to bring clementines to our research meetings – if Paddington was coming along, I know I should bring also some marmalade sandwiches!
Tell us something that will surprise us!
I challenge you to pick which of these statements about me is true: either (a) I have had dinner with 17 Nobel laureates or (b) an Oscar winner has visited my lab. The answer, and more details about my work, can be found here!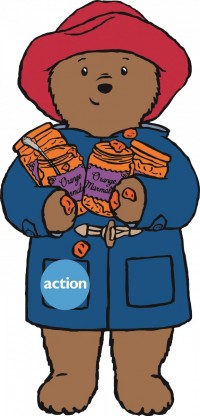 Find out more…
Dr Lamata aims to help babies affected by the rare condition Hypoplastic Left Heart Syndrome (HLHS), by developing tools to help surgeons personalise surgery. You can read more about his study, which is funded by Action Medical Research and Great Ormond Street Hospital Children's Charity, here; and you can read about Jessica who had HLHS, here.