Inspired by the 'amazing growth' of a young child's brain, Dr Tomoki Arichi wants to understand more about the impact of illness on brain development – with a grant of almost £200,000 from Action.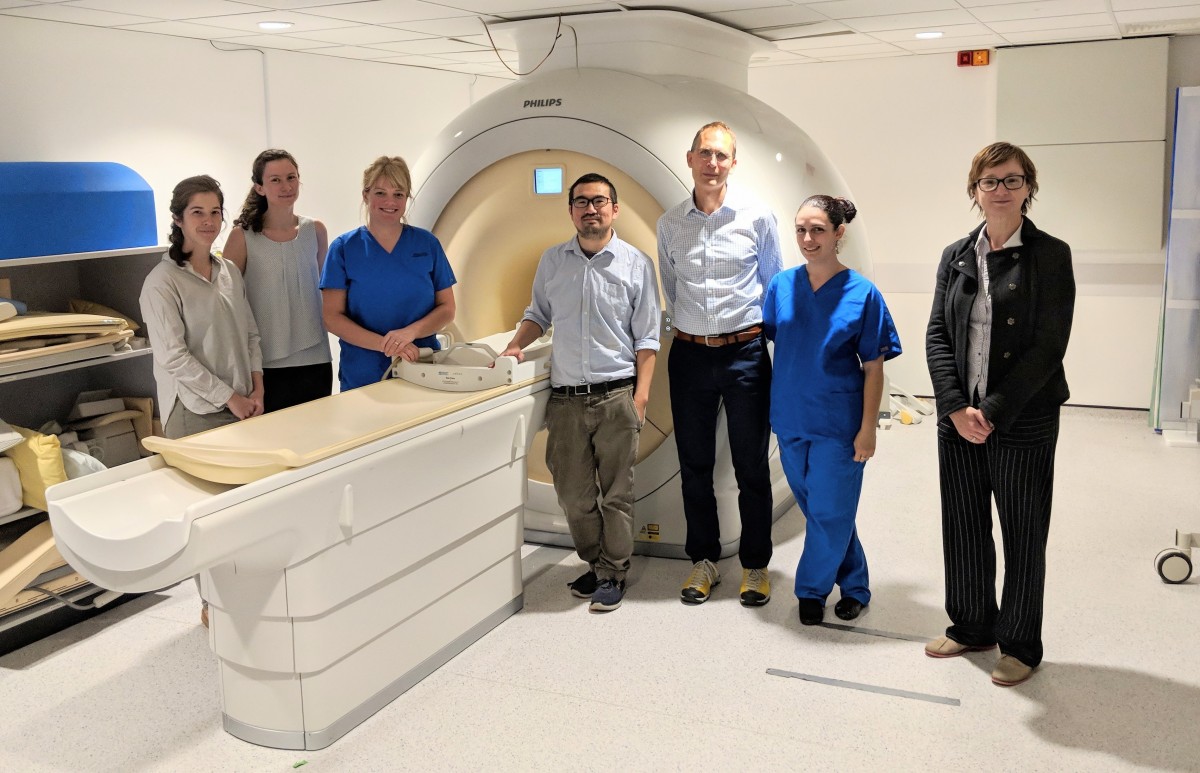 The team working on the project, including those funded by Action: (from left to right) Judit Ciarrusta (PhD student);
Rali Dimitrova (post-doctoral researcher);Jakki Brandon (clinical research nurse); Tomoki Arichi (aediatrician);
Enrico De Vita (MR physicist); Elaine Green (radiographer); Grainne McAlonan (psychiatrist)
What inspired you to investigate this particular area?
When you think about how much a child changes at the beginning of their lives, from first being a baby who spends their day feeding and sleeping, to an infant that learns to walk and talk, and then a child who can read and use a tablet or computer, it really is amazing. Underlying all of this, the brain is growing and developing at an incredible rate to allow all of these new skills. Understanding this process and how it is altered by illness is what inspired me to become a Paediatric Neurodisability doctor and to carry out my research.
MRI (Magnetic Resonance Imaging) has really transformed my work in both of these areas because it gives a safe way to get detailed information about the living, developing brain. This of course is incredibly useful in common but relatively poorly understood conditions like Autism Spectrum Disorder (ASD) and Attention Deficit Hyperactivity Disorder (ADHD). So many of the families affected by these conditions are desperate to understand what could have caused their child's difficulties and for a way to treat them, and this really is what motivated the kind of research work I do.    

What does Action funding for this study mean to you?
We are incredibly grateful to Action Medical Research for funding our study. We are really optimistic that this study will provide important new insights into neurodevelopmental disorders and will lead to a step forwards in how we identify which children will have difficulties and can potentially help them.
 
What does a typical day look like for you … or is every day different?
As I balance my working day between clinical work and academic work, every day is very varied and often unpredictable! So on any given day, I could be reviewing patients on the ward, collecting new data on the MRI scanner or planning new experiments and analysing data. In between all of that I squeeze in supervision meetings with students, teaching, and writing research papers.
 
Can you tell us a bit about your team?
I'm very fortunate to work in a large department with scientists and students with all kinds of different skills and from all over the world. I share an office with computer scientists and physicists from Germany, Belgium and Spain, a biomedical engineer from the USA, a neuroscientist from New Zealand and a psychologist from the UK. I really find it a great environment to work in as it means that we can all take advantage not only of another's expertise but also of everyone's different ways of thinking.
For this project, our team will consist of myself as a Paediatric doctor with a background in using MRI scanning to study brain development, Dr Grainne McAlonan who is a Psychiatrist and an expert in the biology of neurodevelopmental conditions, and Dr Enrico De Vita who is a physicist and an expert in developing new and better ways to acquire MRI data. For actually putting the babies into the MRI scanner and processing the data we collect, we are incredibly lucky to be working together with a fantastic team of post-doctoral researchers, PhD students, research nurses and radiographers – all of whom are experienced and passionate about using MRI to study brain development.
 
Who's your research hero, and why?
I have many! The first that come to mind are the physicist Richard Feynman whose books I love reading as he explained even the most challenging concepts so clearly and enthusiastically; and the physician Barry Marshall who showed the importance of medical research and following your convictions by going against all convention at the time to discover that a bacteria (Helicobacter Pylori) causes peptic ulcers and stomach cancer.  
 
As a charity, Action began in 1952 with our founder's quest to find a cure for polio. What led you to a career in medical research?
Since I was a child, I was always fascinated in understanding how things work (and have broken many things as a result!). When I was studying in University I found neuroscience fascinating as there was (and still are) so many unanswered questions about how the brain works and allows us to do all the amazing things we can do. This then followed through into my clinical practice in Paediatric Neurodisability, as I realised that there is still so much we need to understand and improve, and that the only way we could achieve this is through research.

Action's loyal and lovable mascot Paddington Bear™ is very fond of marmalade sandwiches. What's your favourite snack?
I love tic tacs! Through all the great people I've worked with over the years, I've acquired an enormous collection of tic tacs from all over the world which sit proudly on my desk.
 
Tell us something that will surprise us!
I have an older brother who is not involved in science or medicine at all – instead he is very artistic and makes beautiful paintings and prints. He also used to work in the art department for big budget movies and still does small acting jobs: most recently as a Japanese priest in a TV advert!  
Find out more about this study here

October is ADHD Awareness Month