Archived
Please note, this page may contain outdated information or subject matter.
With funding from Action Medical Research, Professor Kuntsi of King's College London has investigated why premature babies are at increased risk of developing ADHD.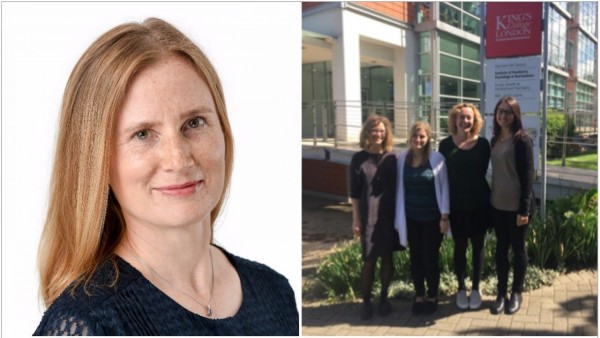 Professor Kuntsi (left) and preterm study colleagues (from left to right) Dr Anna Rommel, Dr Sarah James,
                                                                                           Hannah Sims and Giorgia Michelini
What inspired you to investigate this particular area?
My interest in neurodevelopmental disorders emerged in my student years. At university (UCL) I did an undergraduate research project on autism and, later, a Master's research project on children with physical disabilities. I then worked at Great Ormond Street Hospital for Children, in a team treating young children with feeding problems, after which I started my PhD at the Institute of Child Health, UCL. My PhD topic – attention deficit hyperactivity disorder (ADHD) – emerged from discussions with my supervisor, Professor Jim Stevenson, and it has been a key focus of my research ever since, alongside other neurodevelopmental and psychiatric disorders. These disorders are common and associated with many negative outcomes, so it's important that we continue with the research, paving the way for better interventions.

What does Action funding for this study mean to you?
We have been very fortunate to receive funding from Action for two related projects. Without the funding, we would not have been able to carry out these projects. In the first study we followed up over 400 participants – ADHD and control sibling pairs – to investigate differences between those whose ADHD persists and those who seem to 'grow out' of the disorder. In the second study we recruited 150 adolescents who were born preterm and 150 of their siblings to study preterm birth as a risk factor for ADHD.
What does a typical day look like for you … or is every day different?
Every day is somewhat different, but typically consists of some mix of meetings and other supervision of ongoing projects, seminars or teaching, and writing of papers and grant applications. I am also involved in several international collaborations, which involve regular telephone conferences and some travel.
Can you tell us a bit about your team?
In addition to research workers – who are part of my team especially during data collection phases – other team members consist of PhD students and postdoctoral researchers. We really work as a team – brainstorming together about the science – which is rewarding and productive. I often also have short-term visitors joining my team, for example scientists or clinicians on an Erasmus exchange. Some team members are basic scientists and others are clinicians (psychiatrists). On the projects funded by Action we also work very closely with several senior colleagues at the Centre, including Professor Philip Asherson, Dr Fruhling Rijsdijk and Dr Grainne McLoughlin.
Who's your research hero, and why?
Professor Sir Michael Rutter, who is often referred to as the father of child psychiatry is my research hero. He is an absolutely brilliant scientist, who has made numerous breakthroughs in child psychiatry and psychology.
As a charity, Action began in 1952 with our founder's quest to find a cure for polio. What led you to a career in medical research?
For me, it was a 'stepwise' process: every step from school to university to work experience at Great Ormond Street Hospital helped to fine-tune my career path and focus. Doing medical research gives a sense of purpose and contribution.
Action's loyal and lovable mascot Paddington Bear™ is very fond of marmalade sandwiches. What's your favourite snack?
Currently my favourite snack is a boiled egg – keeps me going and is easily available at the café next to our Research Centre!
Tell us something that will surprise us!
I spent (too much of) my middle childhood and adolescence training and competing in rhythmic gymnastics – this rather strange type of gymnastics (even if an Olympic sport) involving various pieces of apparatus, such as rope, hoop, clubs and ball.
You can read more about a current study at King's College London, also funded by Action, in which Professor Kuntsi is involved developing an app to help teenagers with ADHD who may be affected by depression, here.