Former British and World Champion mountain bike trials and stunt rider Martyn Ashton is an ambassador for our Champions of CycleSport Dinner, and an inspiration to many.

Paralysed in an accident in 2013 during a bike trials demo at the British motoGP, he returned to mountain biking with a customised all-terrain bike to continue to compete – including taking part in the Crankworx Air DH in Whistler, British Columbia.

We caught up with Martyn, who's also a supporter of spinal-cord research foundation Wings for Life, to talk about riding, filming and his plans for life after lockdown – including details of an exciting new addition!
What have you been up to over the past 18 months?
Not an awful lot: I have been shielding for a lot of it so all the video work I have been doing for my mountain biking presenting on GMBN has been in front of a green screen in my bedroom then they've beamed me into the set at work.
I've been out and ridden my bike a couple of times, but I've got to admit it's been a bit quiet, a bit samey. But I have started going back into work now to film on the set so that's starting to feel more like a normal job. It's a bit weird recording when there's nobody behind the camera that you're talking to and you've pressed record; it feels a bit like you're doing it for yourself!
What is around the corner for you now things are getting back to some sort of normal?
I'm hoping to start riding a bit more often now that everything is opening up. I've got some riding plans but probably not until 2022, I'm probably not going to go on any big trips for the rest of this year. I'm hoping to start doing some more exciting rides next year, including going back to Canada to ride at Whistler because that is a fantastic festival and there's lots of good riding there.
And I am hoping to receive a new bike in October, a handbike version of the mountain bike I ride now, which is a three-wheeler which still articulates, so it's not like a simple trike – it will tilt over. That's a really exciting bike but it's a throttle-assisted bike, whereas the new one I'm getting is actually a hand-powered bike using an e-bike motor. That is going to be really cool because that means I will be able to get out and ride mountain bikes, but a bit more like everyone else does, which means getting tired on it and not using all the power of a powerful electric motor which is what I do at the moment. To earn the descent will be really nice!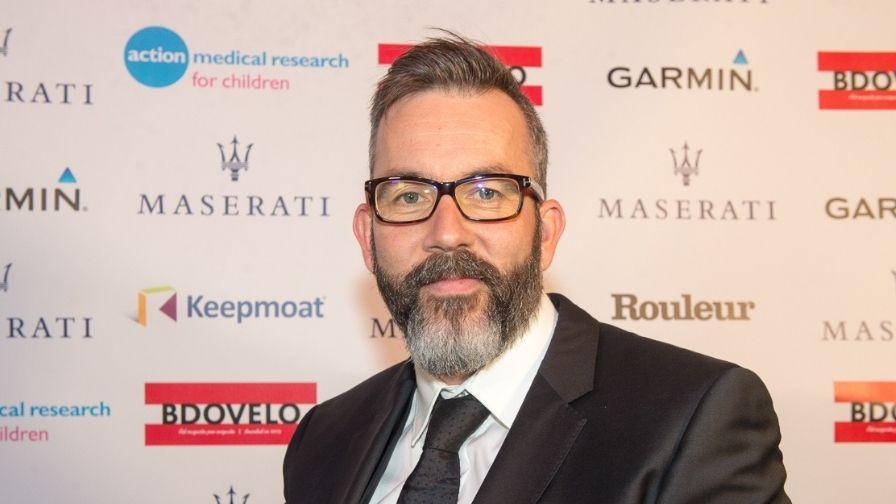 Why have you been a supporter of Action for such a long time?
I'll be honest – the first time I went to the Champions of CycleSport Dinner, I didn't really much about the charity. Then someone gave a speech, a pro rider, who had two guests – a husband and wife – who had been directly affected by the work that Action has done. It suddenly struck me as a dad that this is how so much amazing research gets done. It's such an important detail, even though it can be a bit under the radar, so I was just struck from that first event. You could feel how important the work they do is – I suddenly realised how affected I was personally by it. I felt a bit naïve, a bit like 'well, how do you think this stuff gets done?' All these really important things that have made such a difference, like my partner Lisa taking folic acid throughout her pregnancy; they mentioned the research that had been done that is linked to that and it hit me that I had been affected by this without even realising it, and it grew from there.
Why is the Champs Dinner so special in your eyes?
Every time that I have been, you can tell that the people that are new to it are really pleased to be part of it. It's not just about meeting the pros and having fun – there is also that powerful impact when we get to the serious bit of the evening and everyone gets to think 'I made a good choice today to be here'. It's a really fun night but it brings it back to why Action exists and why everyone is there. No one ever leaves thinking they have paid too much money in the auction! It's such a good cause. And there have also been some absolutely hilarious moments; Lisa and I have been on tables with some really interesting and funny people the times that we have been. It's nice to meet different people and find out how they've been connected to cycling – usually through a very enthusiastic boss! It's a common club, we're all cyclists: we're all doing different things but that's the common thread.
Discover more at www.action.org.uk/champions.