Young researcher Simrandip Gill is dedicated to helping children with brain tumours. Sim, who's based at the University of Birmingham, was invited to share her work at the House of Commons – and kindly offers us a glimpse into this very special occasion…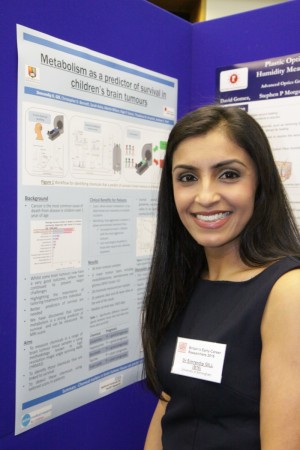 I currently work at the University of Birmingham on an Action Medical Research and Brain Tumour Charity funded grant.
The focus of my research has been on identifying chemicals in children's brain tumour tissue which are linked to overall survival and to then detect these using sophisticated MRI scans in patients.
A summary of my work, called an abstract, was showcased at the 2016 SET for BRITAIN event at the House of Commons – a competition for early career researchers in science, engineering and mathematics.
The Biological and Biomedical Science session officially began at 6.15pm with 60 posters in competition. The evening involved interaction and networking with fellow scientists, poster judges, science societies, MPs and those closely affiliated with the House of Commons.
My local MP, Graham Brady, was lucky enough to have two members of his constituency presenting work in two different sessions throughout the day. He was very excited to hear about the research being conducted and had some interesting questions of his own to ask.
Each person was judged on the content and layout of their poster as well as how well they communicated their research to a non-expert in the field. The competition was strong and unfortunately I did not win. However, it was exciting to talk about my research and showcase the passion I have for what I do.
I hope that my findings can one day make a difference in the clinic. Overall, it was a fantastic opportunity to share my work and one I was privileged to have been a part of.
More about this event…
SET for BRITAIN is an annual event that encourages early career scientists to interact with their MPs and Parliament to help bring ground breaking UK scientific and technological research to the House of Commons. The competition attracts around 500 entrants, of whom approximately 35 per cent are chosen to present their work in Parliament in the form of an academic poster.
More about Sim's work and what it could mean for children…
Brain tumours are the most common solid tumour to develop in children. Sadly, around one in every four children diagnosed with a brain tumour lose their lives within five years1, making brain tumours the most deadly of all childhood cancers.2 By using a method called magnetic resonance spectroscopy, we have identified several markers of overall survival.
However, there is a need to refine and validate these results in tumour tissue because, unfortunately, children who survive are likely to suffer neurological complications that will affect them for the rest of their lives. Therefore it is essential that further research is carried out into the diagnosis and prognosis of these tumours to ensure that children affected are given the right treatment as early as possible in the least invasive way.
In this study, we aim to refine the method to identify groups of tumours which are going to be the most challenging to treat, allowing us to stratify treatment according to the needs of the child.
You can read about Joey, who thankfully survived a brain tumour after treatment at Birmingham Children's Hospital, and is now doing well, here.
References:
1. Medline Plus, Brain tumour – children http://www.nlm.nih.gov/medlineplus/ency/article/000768.htm Website accessed 16 October 2013.
2. Childhood cancer mortality statistics. http://www.cancerresearchuk.org/cancer-info/cancerstats/childhoodcancer/... Website accessed 8 November 2013.