Archived
Please note, this page may contain outdated information or subject matter.
Alexandra Clark and Ashley Rudman are identical twins. The 27-year-olds from Swindon, Wiltshire are taking on our 20th annual London to Paris bike ride. They were both born prematurely and will be riding in memory of their mum who sadly passed away shortly after their delivery. They told us why they want to support Action and how they think they'll cope cycling all the way to France!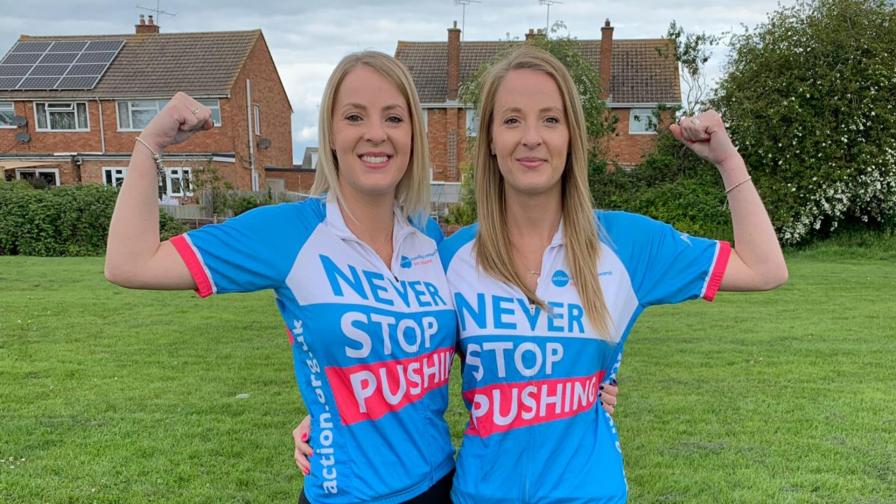 First of all, thank you both for agreeing to take on this huge cycling challenge for us. How did you hear about Action Medical Research?
AR: Well, we both moved down to Swindon from Merseyside as I met Shaun through Alex's work and he has been fundraising for Action for many years now with Friend Dan.
AC: Having worked alongside Shaun and friend via Cross street Garage We just heard all about their fundraising efforts over the years and having been born very prematurely ourselves and losing mum through pregnancy complications, we just wanted to help where we can.
AR: It took us a while to feel comfortable sharing our story, but we feel ready now and want to take on a challenge for ourselves!
That's fantastic, thank you so much for your support. How is training going?
AC: Training is steady we get out when we can(!). We will be stepping up our training plan throughout May just to try and make sure we're as prepared as possible for the 300 mile ride!
It IS a long way! Have you ever done something like this before?
AR: No, not really. To be honest we haven't been on a bike since we were about 15.
AC: That's true! I did climb Ben Nevis last year with my sister-in-law. Does that count?!? We're both just super excited to give L2P a go.
Tell us a bit more about your motivations for wanting to help Action.
AR: We were born very prematurely at 30 weeks and mum had pregnancy complications.  She had pre-eclampsia which deteriorated, causing her to collapse into an ecliptic fit. The doctors immediately intubated and started CPR and placed mum in a coma, we were then delivered under controlled conditions. It was decided 3 days later to turn mum's life support off as she had suffered a cerebral haemorrhage.
AC: We were hospitalised for months having been born weighing just 2lb and we are extremely grateful for all the help and care we received.  We support Action because without the help of charities like this, the expert care we received may not have been possible. We also have close friends/colleagues who have lost their little angels and want to ride in memory of all those taken too soon too.
We really do appreciate your support, thank you. What are you most looking forward to about the ride?
AR: While we are cycling, day number 2 (26th July) is mum's birthday and we cannot wait to celebrate by making her proud.  We're both really look forward to crossing the finish line in Paris with our family/friends.
What are you least looking forward to?!
AC: Giant hills we probably usually couldn't walk up haha…. bring on the sore bums and burning thighs.
Is there any one thing you're having to sacrifice (e.g. food/drink) that you're looking forward to enjoying again?
AR: Absolutely not, we are definitely going to wing this just like proper scouse girls do and eat cake, chocolate and anything else that's thrown at us. I just hope there is a McDonalds at every pit stop, we need chicken nuggets and burgers not fruit and salad, haha!
Obviously not everyone can take on a 5 day cycling challenge, but why would you encourage others to do what they can to help Action?
AR: We are not going to lie, we haven't even figured out how we can get through a 5 day challenge yet! But Action is such a fantastic charity; pregnancy complications and premature births happen daily and it breaks our hearts the thought of others having to go through such a difficult time of losing a parent or child and we wouldn't wish that pain on anyone.
AC: We will always support Action to help prevent this for others and we would urge all to support in any way they can as there are so many events for all abilities to have some fun and fundraise. Having climbed Ben Nevis and already felt the overwhelming and rewarding emotions of completing it, we would certainly spread the word. We have already talked friends and family into doing L2P with us so that we can share the experience and raise more money.