Leading children's charity Action Medical Research are delighted to announce that their Champions of CycleSport gala dinner will return for 2021.
The popular event, which sees the biggest names in cycling join forces to raise funds to help save and change the lives of babies and children, will take place on Thursday, 18 November.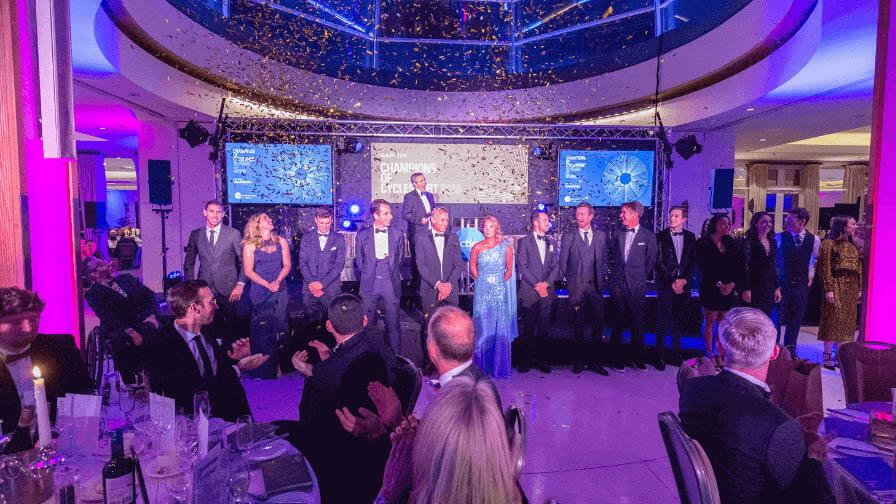 After a break last year, this year's Champions of CycleSport Dinner is set to be a really special event – with just a handful of tables remaining.
Among the cycling stars hoping to attend the event at the elegant Hurlingham Club in London will be Mark Beaumont, Alex Dowsett, Dan Martin, Martyn Ashton and Connor Swift. Aiming to join them are Rochelle Gilmore, David Millar, Dani Rowe MBE, Sean Yates and Yanto Barker, along with Olympic gold medal-winning athlete Sally Gunnell OBE.
Hosts Dan Lloyd and Matt Stephens will return to lead the proceedings at the 11th annual Champions of CycleSport dinner, which is sponsored by Garmin and supported by accountancy and business advisory firm BDO and Rouleur.
"We're really looking forward to celebrating the best of cycling once again this year, with the sport's top riders showing their support for the fight for little lives," says event ambassador Mark Beaumont.
Mark, who cycled around the world in less than 80 days, setting a new world record in the process, has been a long-term supporter of the charity.
"Action Medical Research is a very worthwhile charity that is doing great work to help fund vital medical research," he adds.
"Their calendar of sportives and events was greatly missed last year so this is the perfect opportunity for us all to celebrate the very best of cycling after a challenging year."
Only a small number of bronze, silver and silver-plus tables remain for the event. The Silver Plus tables include five bottles of wine and a celebrity guest speaker or host, while Silver tables have a central position and five bottles of wine. The Bronze tables include five bottles of wine and offer a good view of the event screens and stage.
Prizes in the Champions of CycleSport online auction this year – which is open to all two weeks before the event – include a Quella custom-made bike, a Passoni frame, a signed limited edition golf print of Colin Montgomery winning the Ryder Cup, and the chance to have your name in Peter James' next crime thriller.
Action Medical Research is a UK-wide children's charity which funds desperately needed research to tackle the diseases that devastate the lives of so many of our children. It has been funding medical breakthroughs since it began in 1952 including helping to introduce the first polio vaccines in the UK, developing the use of ultrasound in pregnancy and testing the rubella vaccine. It is now driving forward children's research in the fight against COVID-19.
The charity is currently funding research into conditions including COVID-19, asthma, prematurity, epilepsy, meningitis, cerebral palsy, brain cancer and some rare and distressing conditions.
For full details of the Champions of CycleSport Dinner, and to book your table today, visit www.action.org.uk/champions.
ENDS
Notes for editors:
Follow us on Twitter at @actionmedres and @amr_events  
Like our Facebook page at facebook.com/actionmedres
Follow us on Instagram at @actionmedres and @actionevents
Action Medical Research is a leading UK-wide charity saving and changing children's lives through medical research. For nearly 70 years we've helped pioneer ways to prevent disease and develop treatments benefiting millions of people. Our research has helped to beat polio in the UK, develop ultrasound in pregnancy, fight meningitis and prevent stillbirths. But we urgently need to develop more new treatments and cures for sick babies and children and we can't do it without you.
Join our fight for little lives today.
Charity reg. nos 208701 and SC039284
Images of the 2019 Champions of CycleSport Dinner can be found here: https://www.dropbox.com/sh/74fvlheh4x8m79v/AADBZ0FCpAtTj6HgPvIjb_gHa?dl=0