TV presenter Davina McCall will be hosting a very special online 'Night In' on Tuesday 24 November to help support children's charity Action Medical Research. The charity funds vital medical research to help sick babies and children, and has seen many events cancelled or postponed this year due to the current covid crisis – including one of its largest annual fundraising events,
Dine with Davina.
Dine with Davina, held in Southampton, usually attracts around 450 guests and raises more than £50,000. This year the charity will instead be running the new virtual Davina's Night In to help raise much-needed funds and entertain during this second lockdown. It's hoped that those who usually attend in person, and many more, will join in online.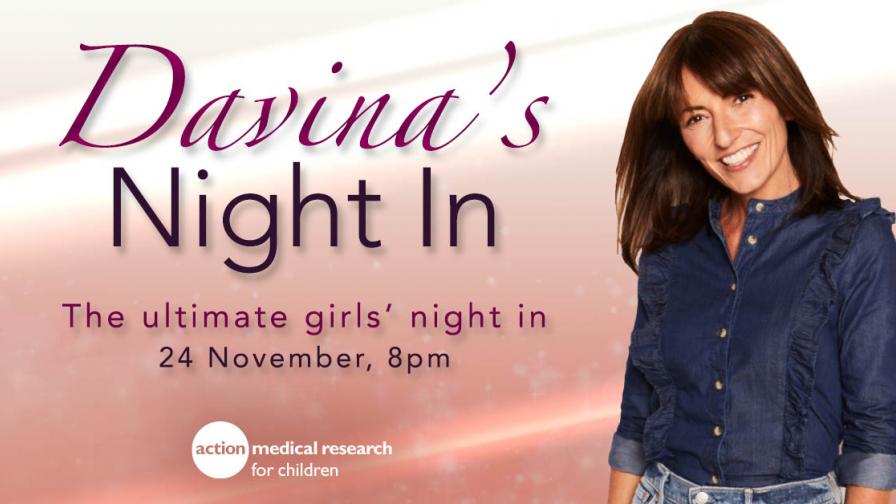 Action Ambassador Davina McCall has been supporting the charity for many years, having first been introduced by her late granny 'Pippy', who was a local fundraiser.
Ruth Dean, organiser of Davina's Night In, says: "We are so grateful to Davina for hosting this special event and are really looking forward to the evening, which will feature the ex-Mr England, Jordan Williams, as well as some other special guests. It will be a great way to hear from the amazing Davina from the comfort of your own home, all while helping to raise money for vital medical research."
Davina's Night In will live stream from 8pm on Tuesday 24 November and will be an evening of conversation and entertainment. As well as hearing about what Davina has been up to lately, there are some exciting ways to support the charity – with a fabulous fundraising auction and the chance to win some amazing prizes in the Star Prize Draw, including a designer handbag of your choice (terms and conditions apply).
Action Medical Research is a UK-wide children's charity which funds desperately needed research to tackle diseases that can devastate the lives of children. It has been funding medical breakthroughs since it began in 1952, including helping to introduce the first polio vaccines in the UK, developing the use of ultrasound in pregnancy and testing the rubella vaccine. The charity is now driving forward research to help protect children in the fight against COVID-19. 
With the nights drawing in and most of the UK in lockdown, what better way to spend an evening than in the company of one of the UK's best-loved celebrities while helping to raise funds to help sick babies and children.
If you would like to join this exciting evening go to www.action.org.uk/davinasnightin to find out more.
ENDS
Notes to editors:
Accompanying images of Davina McCall can be found here:
https://www.dropbox.com/sh/x41v0gb10zxtpi1/AAAKoZkMHsVBeGEqGyToFwsFa?dl=0
Action Medical Research
Please contact Sarah Moss
T: 07754 320281
Follow us on Twitter at @actionmedres and @amr_events   
Like our Facebook page at facebook.com/actionmedres 
Follow us at pinterest/actionmedres
Action Medical Research is the leading UK-wide charity saving and changing children's lives through medical research. For more than 65 years we've helped pioneer ways to prevent disease and develop treatments benefiting millions of people. Our research has helped to beat polio in the UK, develop ultrasound in pregnancy, fight meningitis and prevent stillbirths. But we urgently need to develop more new treatments and cures for sick babies and children and we can't do it without you.
Join our fight for little lives today.
Charity reg. nos 208701 and SC039284.