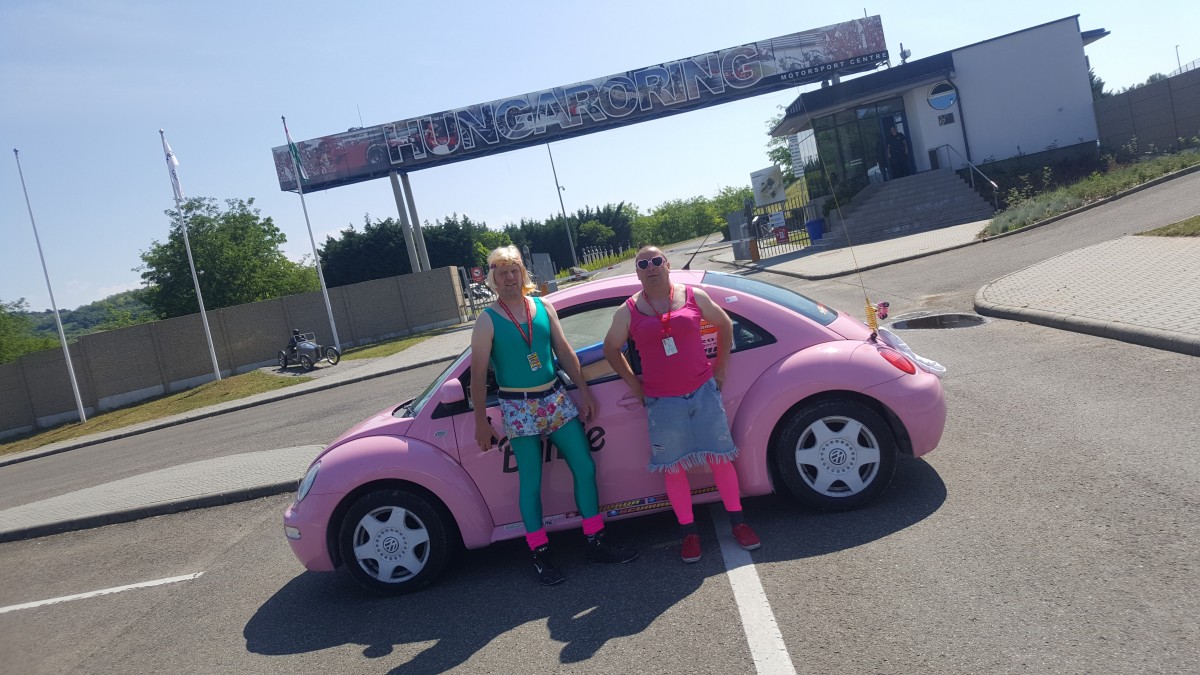 Two men from Gloucestershire have proved to be very driven when it comes to fundraising.
Earlier this year, 52-year-olds Stephen 'Spike' Charles and Neil Butler took part in a 2,300 mile mystery tour across Europe for Action Medical Research.
"This was our fourth 'Scumrun' event", said Neil. "We love it. It's the family feeling, the camaraderie that goes with it. It's about bonding with fellow teams, travelling around the continent and of course helping raise money for charities."
The pair have certainly done their bit for Action.
Not content with just fundraising ahead of their challenge back in May, the two friends went on to sell the pink VW Beetle that got them from Kent to Budapest and back to Gloucestershire.
Both Spike, from Winchcombe, and Neil, from Temple Guiting, - who were known as 'Team Barbie' - travelled down to Sussex on Thursday 11 October to present Action with a total of £1,560.
Spike says they're just pleased to be able to help: "Last year we won the 'Spirit of the Scumrun' and were therefore given free entry to the 2018 event, as well as the car.
"When we saw that it was a Beetle, we thought 'who drives one of those?'. Barbie came to mind, so we got it spray painted and the rest is history!"  
They sold raffle tickets to friends on Facebook and had a winner picked at random at the 'Winchcombe Country Show'. Ironically the winner was a man called Ken!
The pals were motivated to take part in their first Scumrun event in 2015 for two very personal reasons.
Spike's 5-year-old daughter had not long finished successful treatment for cancer having been diagnosed with a Wilms tumour at a young age.
Neil's 3-year-old daughter sadly died in a car crash in 2005: "There was nothing anyone could do, it was tragic.
"If I can do anything to help save another kid's life, I'll do it. It's giving something back and that's why we continue to get involved every year."
Action Medical Research is a UK-wide children's charity which funds desperately needed research to tackle the diseases that devastate the lives of so many of our children. It has been funding medical breakthroughs since it began in 1952 including helping to introduce the first polio vaccines in the UK, developing the use of ultrasound in pregnancy and testing the rubella vaccine.
The charity is currently funding research into areas including premature birth, epilepsy, asthma, scarlet fever, cerebral palsy, brain cancer and some rare and distressing conditions.
-END-
NOTES TO EDITORS:
Scumrun is an annual event organised by Scumrun Ltd. https://www.scumrun.com/
Teams are invited to sign up for a mystery route across Europe. They're required to buy their own cars, decorate them (and themselves) and fundraise for that year's chosen charity.
Action Medical Research was the chosen charity for 2018.
You can read more about the 2018 event in this blog: https://www.action.org.uk/blog/2018/05/25/saving-tiny-lives-scumrun-2018
Photos
Neil and Spike with their pink VW Beetle:
https://www.action.org.uk/sites/default/files/downloads/press/scumrun2018_barbie_car.jpg
Neil and Spike presenting their cheque to Action:
https://www.action.org.uk/sites/default/files/downloads/press/scumrun2018_barbie_cheque.jpg
For more information on Action Medical Research, contact Peter Denton, Fundraising Communications Officer, on:
T: 01403 327412
E: pdenton@action.org.uk
W: www.action.org.uk
Follow us on Twitter at @actionmedres and @amr_events 
Like our Facebook page at facebook.com/actionmedres
Follow us on Instagram at @actionmedres and @actionevents 
Action Medical Research is a leading UK-wide charity saving and changing children's lives through medical research. For more than 65 years we've helped pioneer ways to prevent disease and develop treatments benefiting millions of people. Our research has helped to beat polio in the UK, develop ultrasound in pregnancy, fight meningitis and prevent stillbirths. But we urgently need to develop more new treatments and cures for sick babies and children and we can't do it without you.
Join our fight for little lives today.
Charity reg. nos 208701 and SC039284.