Archived
Please note, this page may contain outdated information or subject matter.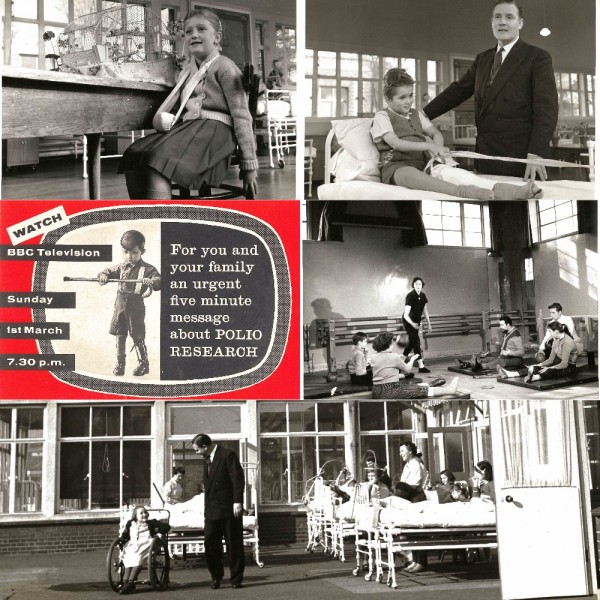 In the 1950s polio was one of the most feared diseases in the developed world. Polio attacks nerves that control muscles, leading to muscle weakness and paralysis, and can be fatal.
It mainly affects children under five years old and one in 200 infections causes irreversible paralysis, usually in the legs1. The disease is caused by the poliovirus – a highly contagious virus specific to humans.
In the early 1950s, 8,000 people were paralysed by polio each year in the UK2. Tragically, five to 10 per cent lost their lives after their breathing muscles became immobilized3.
Action Medical Research founder Duncan Guthrie, whose own daughter Janet contracted polio, was so deeply moved by the plight of children affected by the disease that he set out to find a cure.
Guthrie established The National Fund for Poliomyelitis Research in 1952 and began fundraising for vital medical research to develop and test vaccines. Within 10 years, the UK polio vaccine was introduced and it has kept millions of children safe from this deadly virus ever since.
Guthrie's fundraising ideas included an innovative five-minute BBC TV fundraising appeal in 1959.
Sarah Moss, Director of Communications at Action Medical Research, says: "The original 1959 script for the appeal is accompanied by a set of incredibly poignant black and white photographs. They show Duncan Guthrie on the children's ward of an orthopaedic hospital. Some children are bed-bound or in a wheelchair, while others are exercising and receiving different treatments, including water-based occupational therapy, which doctors had discovered worked better for weakened limbs."
Sarah adds: "Our founder had a gift for expressing things in a simple but moving way. Explaining that the children in the appeal had had polio he said: 'Some of their muscles just don't work now. Like other children they used to go tearing round the house banging doors. I expect their parents would dearly love to hear that noise again.'"
Sarah continues: "As a father himself, Duncan Guthrie understood the devastating impact of hospital treatment on children; some were apart from their families for long periods of time and faced a life of disability afterwards. He commented that 'people affected by polio often need a great deal of courage to come back to our everyday world.'"
Today, that world looks very different – and so too does the charity that Guthrie founded back in 1952. It has blossomed and grown into Action Medical Research – now the leading UK-wide charity funding vital medical research to help sick and disabled babies, children and young people.
Based at Vincent House in Horsham, Sussex, Action Medical Research has funded more than £115 million of top quality research to help sick and vulnerable babies and children.
The charity has supported some of the most important medical breakthroughs in recent history including helping to introduce ultrasound in pregnancy; creating the award-winning adjustable Matrix Seating System to help support physically disabled children as they grow; and discovering the genes responsible for rare and devastating conditions such as Von Hippel-Lindau disease which causes tumours to grow on many parts of the body.
Recently-announced studies that Action is funding include research to help children affected by cystic fibrosis, sickle cell disease, epilepsy and premature birth.
On 24 October the charity will be supporting World Polio Day by sharing the poignant 1959 images on its website and via social media – a contemporary approach that is firmly rooted in the tradition of public engagement that Duncan Guthrie embraced more than 60 years ago to save and change the lives of children.
** ENDS **

Notes to editors:
Duncan Guthrie founded The National Fund for Poliomyelitis Research in 1952 after his daughter Janet contracted polio aged just 20 months.
Early funds raised went to Professor George Dick and his team at Queen's University in Belfast, to test and develop two polio vaccines for use in the UK: the injectable Salk vaccine, which was introduced in 1955, and the oral sugar cube Sabin vaccine which was introduced in 1962.
The researchers focused on establishing the safety and effectiveness of the vaccines, the right amount to give, and the best ways to administer them. They also explored how polio infects humans and how well the vaccines could protect whole populations.
Action Medical Research, which developed from The National Fund for Poliomyelitis Research, played a crucial role in the development of the first UK polio vaccines.
World Polio Day is on 24 October in honour of the birthday of Dr Jonas Salk, who led the team that developed the first polio vaccine.
In 1988, when the Global Polio Eradication Initiative was formed, polio paralysed more than 350,000 people a year. Since that time, polio case numbers have decreased by more than 99%4. Now it is endemic in just three countries3.
But the fight continues: as long as a single child remains infected, children in all countries are at risk of contracting polio. Failure to eradicate polio from the last remaining strongholds could result in as many as 200,000 new cases every year, within 10 years, all over the world5.
References:
Images:
Please ask Kate Lee for a link to 17 hi res images, which you can also see on our website here.
For further information on Action Medical Research contact:
Kate Lee, Research Communications Officer (Mon-Weds)
T: 01403 327478
Follow us on Twitter at @actionmedres and @amr_events  
Like our Facebook page at facebook.com/actionmedres
Follow us at pinterest/actionmedres
Action Medical Research is a leading UK-wide charity saving and changing children's lives through medical research. For more than 60 years we've helped pioneer ways to prevent disease and develop treatments benefiting millions of people. Our research has helped to beat polio in the UK, develop ultrasound, fight meningitis and prevent stillbirths. But we urgently need to develop more new treatments and cures for sick babies and children and we can't do it without you.

Join our fight for little lives today.

Charity reg. nos 208701 and SC039284.