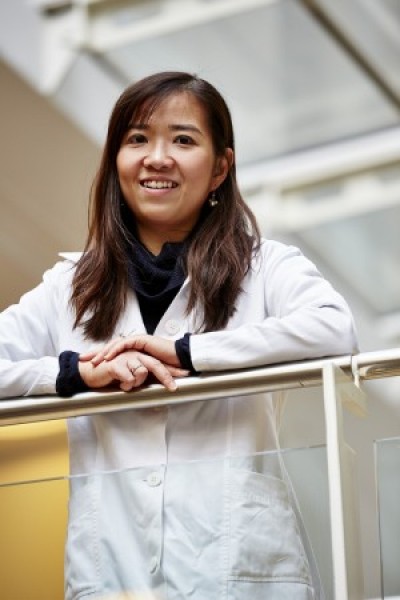 A little boy living with the devastating rare disease Landau Kleffner syndrome (LKS) has inspired Action Hero Dr Adeline Ngoh to run her first ever race – for the most moving of reasons.
Funded by children's charity Action Medical Research, talented young researcher Dr Adeline Ngoh is looking into possible genetic causes of LKS to help children like little Francesco – and her commitment to helping sick children does not stop in the laboratory.
As a dedicated 'Action Hero', Dr Ngoh has lent her support to Francesco's Appeal and is taking part in the Vitality London 10k race on 30 May to raise vital funds.
This rare condition, known as LKS, robs previously healthy children of the ability to speak and understand language. Sadly, children with LKS can also develop behavioural problems and autism spectrum symptoms and become isolated.
When Francesco first started school he was happy, contented and sociable. But towards the end of his first term, he became withdrawn. His teacher felt he seemed lost and, at home, parents Mathias and Nicola noticed that Francesco was not talking or making eye contact. "We felt the loss of the Francesco we knew," Mathias says. "His personality changed completely."
The impact of LKS on Francesco has been profound: he has become much more anxious, and now goes to a school for children who are deaf.
His dad Mathias explains: "Francesco is 'functionally deaf' because his brain does not process sounds in the right way. Being able to use and understand sign language offers him another way to communicate."
Francesco, who is now five, takes steroids and other medicines twice a week and his parents are seeing some signs of recovery. But very little is known about this rare disease, which is thought to affect one child in 300,000, and Francesco's future wellbeing is difficult to predict.
Dr Ngoh, who is based at University College London's Institute of Child Health, says: "This is my first ever run so I chose 10k as I think the distance will be manageable! It's so inspiring seeing other people running to raise funds for research like this. As we don't know much at all about LKS, anything that we can discover will be helpful. Action Medical Research is funding my study so I really feel pleased to do something in return and help raise money for the charity."
– ENDS –
 
NOTES TO EDITORS
The following images, with captions as follows, are available to download:
Francesco with parents Nicola and Mathias and little brother Fabrizio
Dr Adeline Ngoh
https://www.action.org.uk/sites/default/files/downloads/press/dsc_0014.jpg
https://www.action.org.uk/sites/default/files/downloads/press/card3_0849_0.jpg
Further hi-res images of Francesco and his family are available via Dropbox – please ask Kate Lee, Research Communications Office
Details of Dr Ngoh's research can be found on our website here.
Francesco's story is on the Action website here.
Donations can be made to Francesco's Appeal.
The family prefer not to have their surname included in the media
For further information on Action Medical Research please contact Kate Lee, Research Communications Officer
T: 01403 327478
Follow us on Twitter at @actionmedres and @amr_events  
Like our Facebook page at facebook.com/actionmedres
Follow us at pinterest/actionmedres
Action Medical Research is a leading UK-wide charity saving and changing children's lives through medical research. For more than 60 years we've helped pioneer ways to prevent disease and develop treatments benefiting millions of people. Our research has helped to beat polio in the UK, develop ultrasound, fight meningitis and prevent stillbirths. But we urgently need to develop more new treatments and cures for sick babies and children and we can't do it without you. Join our fight for little lives today.

Charity reg. nos 208701 and SC039284.