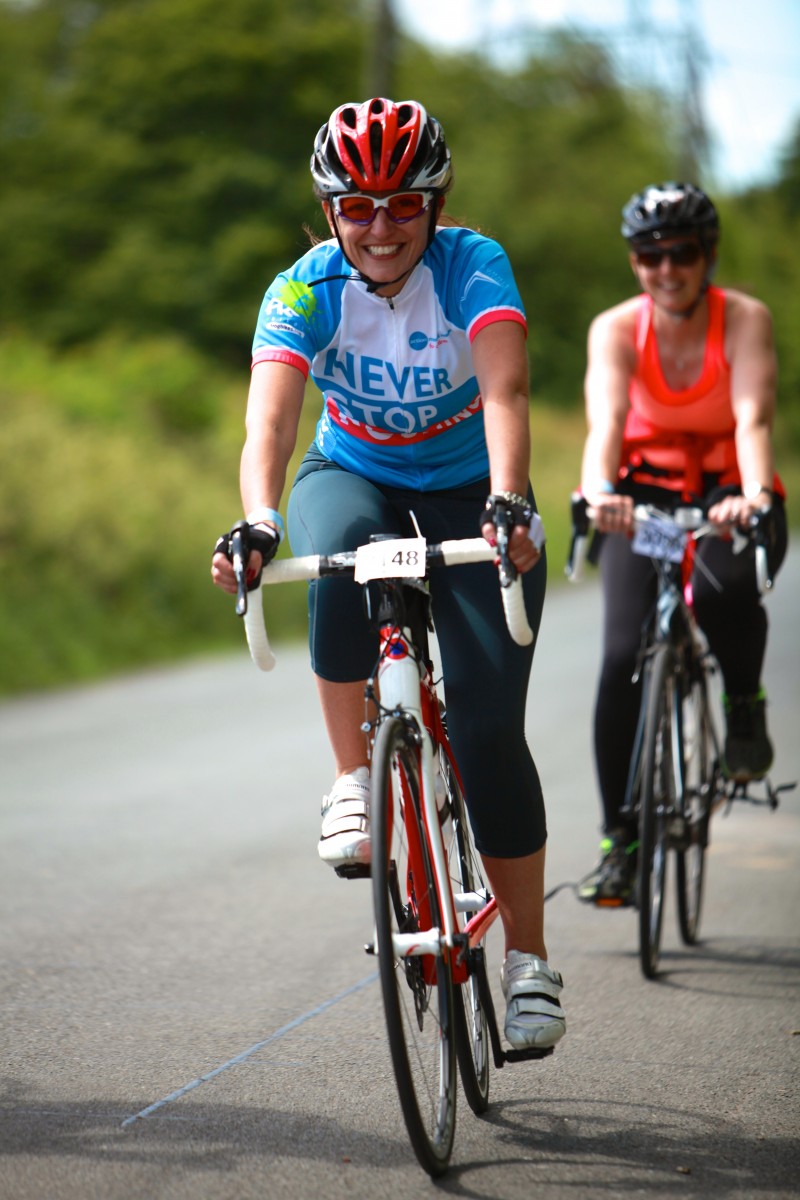 Davina McCall is inviting novice and experienced cyclists alike to join her Big Sussex Bike Ride on Sunday, 12 June, to raise much-needed funds for sick and disabled babies and children.
This will be the sixth year that the popular TV presenter and fitness queen hosts the cycling event in aid of Horsham-based children's charity Action Medical Research, a cause she has supported since she was a child.
Last year Davina got back in the saddle to join 400 cyclists, including skating legend and East Sussex resident Jayne Torvill, for her first cycling event since her gruelling Sport Relief challenge in February 2014.
Davina stuck to the Classic route after only getting back in the saddle three weeks earlier following a knee injury, but for 2016 she'll be taking things up a gear!
There are three route options on Davina's Big Sussex Bike Ride so there's no excuse not to take part. If you're new to cycling you can choose to cycle the Cool 21-mile route; those who are more advanced or up for a challenge may prefer the Classic 40-mile option; or experienced riders can join Davina for the Champion 68-mile route.
All cyclists, including Davina, will start between 8am and 9am in the tranquil grounds of the East Sussex National Hotel and Golf Course near Uckfield before continuing into the quiet lanes of the surrounding area, through picturesque villages and stunning scenery. There are well stocked feed stops around the route, mechanical support and first aiders on hand with a hearty barbecue lunch at the finish.
"It's going to be a brilliant day - this ride is so inclusive, it's female-friendly but really it's friendly to everyone. We all look out for each other out there on the roads and just have fun," says Davina.
"It doesn't matter if you're a novice or a pro, it's about getting on your bike with your mates and enjoying a great way to help such a special charity raise much-needed funds."
Cyclists taking part in Davina's Big Sussex Bike Ride will help fund medical research to save and change children's lives. Action Medical Research has been funding medical breakthroughs since it began in 1952 and it is currently funding research into meningitis, Down syndrome, epilepsy and premature birth, as well as some rare and distressing conditions that severely affect children.
This year Action Medical Research has opened up the ride to supporters of Great Ormond Street Hospital Children's Charity, as it celebrates working in partnership with the charity to jointly fund over £2m of research.
Entry to Davina's Big Sussex Bike Ride is just £38 - sign up today at action.org.uk/davinas-big-sussex-bike-ride
- ENDS –
For high-res images of Davina at the bike ride, please click on the links below (please credit Lee Collier Photography):
http://www.action.org.uk/sites/default/files/downloads/press/davina_mccall_1.jpg
http://www.action.org.uk/sites/default/files/downloads/press/davina_mccall_riding.jpg
http://www.action.org.uk/sites/default/files/downloads/press/davina_completes_the_ride.jpg
NOTES TO EDITORS:
For more information on Action Medical Research, please contact Ellie Evans, Fundraising Communications Officer, on:
T 01403 327480
Follow us on Twitter at @actionmedres and @amr_events  
Like our Facebook page at facebook.com/actionmedres
Follow us at pinterest/actionmedres
Action Medical Research is a leading UK-wide charity saving and changing children's lives through medical research. For more than 60 years we've helped pioneer ways to prevent disease and develop treatments benefiting millions of people. Our research has helped to beat polio in the UK, develop ultrasound, fight meningitis and prevent stillbirths. But we urgently need to develop more new treatments and cures for sick babies and children and we can't do it without you.
Join our fight for little lives today.
Charity reg. nos 208701 and SC039284.
About Great Ormond Street Hospital Children's Charity:
Great Ormond Street Hospital is one of the world's leading children's hospitals with the broadest range of dedicated, children's healthcare specialists under one roof in the UK. The hospital's pioneering research and treatment gives hope to children from across the UK with the rarest, most complex and often life-threatening conditions. Our patients and families are central to everything we do – from the moment they come through the door and for as long as they need us.
Great Ormond Street Hospital Children's Charity needs to raise money to support the hospital to give children who need help the most the best chance for life. The charity funds research into pioneering new treatments for children, provides the latest medical equipment and supports the essential redevelopment of the hospital. You can help us to provide world class care for our patients and families. For more information visit www.gosh.org