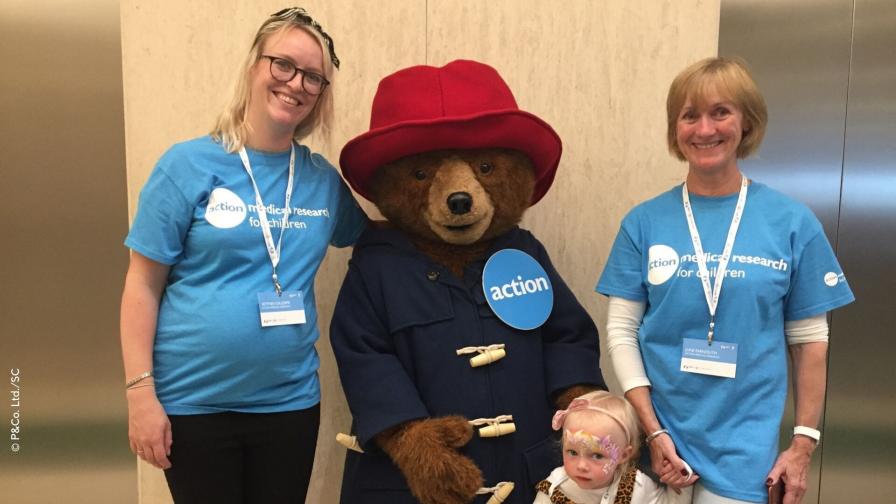 Two–year-old Freya Gillespie from Windsor got to rub shoulders with some famous faces in London last week.
The toddler – who was joined by her mother Stephanie and Grandmother June Farnorth - was representing children's charity Action Medical Research at the annual GFI Charity Day in Hackney on 11 September.
"Freya had such a fantastic time" said Stephanie afterwards. "This event helps a number of charities each year and we were delighted that Action was once again chosen as a beneficiary.
"Every penny raised really can make a difference and we were just so happy to be able to play a small part in this year's proceedings."
The GFI Charity Day runs alongside the BGC Charity Day with 100% of global revenues raised on 11 September donated to participating charities and the Cantor Fitzgerald Relief Fund.
Action is a cause close to Steph's heart because Freya was born three months premature weighing just 2lbs 4oz after Steph developed a life-threatening pregnancy complication.
Steph's symptoms, which included severe bleeding, a terrible headache and high blood pressure, were so worrying that her consultant decided to deliver Freya by emergency caesarean section at just 27 weeks and six days.
Freya's delivery was complicated because she was so tiny but, thankfully, she was delivered safely. She is now a happy, healthy toddler.
"It's fantastic to know that research is happening to help premature babies. We know so little about it and, as mums, we have a huge sense of guilt. And it's so important to raise awareness of prematurity as it happens to so many people."
Freya and her family were joined by some other Action supporters including its official mascot Paddington Bear™ and TV presenter Davina McCall.
Speaking afterwards Davina, who was born a month premature and is supporting the charity's BORN TOO SOON campaign, said: "It's always an honour to represent Action Medical Research; big events like this one not only help raise funds but also awareness, which is fantastic.
"Little Freya is such an inspiration. The fact that she is here today smiling, laughing and having fun is poignant reminder of how important Action's role is in the funding of vital medical research."
Action Medical Research is a UK-wide children's charity which funds desperately needed research to tackle the diseases that devastate the lives of so many of our children. It has been funding medical breakthroughs since it began in 1952 including helping to introduce the first polio vaccines in the UK, developing the use of ultrasound in pregnancy and testing the rubella vaccine.
Action is currently funding research into areas including premature birth, epilepsy, asthma, scarlet fever, cerebral palsy, brain cancer and some rare and distressing conditions.
Notes to Editors
Action's BORN TOO SOON campaign was launched last year and aims to raise £1 million by the end of 2020.
Find out more: action.org.uk/borntoosoon  
 
Photos
Freya and family posing with Davina:
https://action.org.uk/sites/default/files/2019-09/Freya_family_davina_GFI.jpg
Freya and family posing with Paddington:
https://action.org.uk/sites/default/files/2019-09/Freya_family_paddington_GFI.jpg

About Paddington
For over 60 years, British-born writer Michael Bond has delighted children and families all over the world with his stories about Paddington, the bear from Darkest Peru famous for his love of marmalade. Paddington is popular with both children and adults who feel affectionate and warm towards him and the charm and humour of the Paddington stories is the key to their enduring popularity.
Paddington's adventures have been adapted several times for television and at the end of 2014 Paddington made his debut onto the big screen, a further film Paddington 2 followed in 2017 with a third in the works. The movies were produced by Studiocanal, part of the international content and media group Vivendi. A new Paddington TV series also from Studiocanal is set to launch on Nickelodeon in 2020.
Follow Paddington on Twitter at @paddingtonbear. Like Paddington's Facebook page at https://www.facebook.com/PaddingtonBear/
©P&Co. Ltd./SC 2019
Licensed on behalf of STUDIOCANAL S.A.S by Copyrights Group.
For more information on Action Medical Research contact Peter Denton, Fundraising Communications Officer, on:

T: 01403 327412
E: pdenton@action.org.uk
W: action.org.uk
Follow us on Twitter at @actionmedres and @amr_events  
Like our Facebook page at facebook.com/actionmedres
Follow us on Instagram at @actionmedres and @actionevents
Action Medical Research is a leading UK-wide charity saving and changing children's lives through medical research. For more than 65 years we've helped pioneer ways to prevent disease and develop treatments benefiting millions of people. Our research has helped to beat polio in the UK, develop ultrasound in pregnancy, fight meningitis and prevent stillbirths. But we urgently need to develop more new treatments and cures for sick babies and children and we can't do it without you.
Join our fight for little lives today.