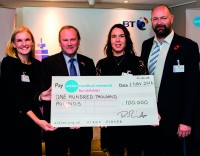 Our latest Action reception, held at London's BT Tower, was an ideal setting to thank existing supporters and inform new ones about the vital research they can help fund. Action's Chair, Phil Hodkinson (pictured centre left), was also delighted to accept a cheque from Skerritts Chartered Financial Planners, who raised £100,000 for Action in 2016. Also pictured l-r are: Louise Hearn from Skerritts and Heidi and Richard Skerritt.
We're also grateful to have received support from Liberty Specialty Markets, one of the world's largest specialty insurers. Liberty's generous donation will help fund research for children with brain cancer.
And we're thrilled to have been selected by DX Group as one of their three charity partners. Staff at the mailing, parcels and logistics firm will fundraise throughout the year and the business has pledged to match the money raised up to £50,000.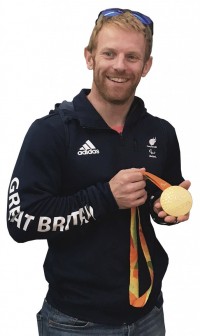 Always ready to support Action, Davina McCall hit the trading floor to represent us at the annual BGC Charity Day last September. The annual event commemorates the World Trade Center terrorist attack of September 11 and is held in BGC offices across the globe.
Thank you to everybody who supported the matched-funding opportunity offered by the Big Give Christmas Challenge again last December. We exceeded our £30,000 target, with funds raised going towards research into developing personalised surgery for babies with heart disease.
We are proud to have been named as the charity partner for two cycling events this year, Eroica Britannia and the Tour of Ayrshire.
And our cycling events continue to attract corporate supporters, with international IT firm Commvault entering a team for this year's London to Paris ride for the third year. Meanwhile Black and White Hospitality, owned by Marco Pierre White, are building a team for their first outing. Pure Storage also has a team of 30-plus on our Paris to Geneva ride in September. 
Action have also been beneficiaries of annual staff and client bike rides put on by Aon Benfield, which raised over £60,000, Garmin, raising £45,600 and Willmott Dixon, which was attended by special guest Jody Cundy OBE (pictured) and raised £100,000.