Charlie Paterson has been one of our most loyal runners over the last decade and his various costumes have ensured he's popped up on TV screens too. His reason for running remains the same – to help babies like his son, who was born too soon.
Charlie, from Hull, first ran the Great North Run for Action Medical Research back in 2008, dressed as an eight-foot bottle of Newcastle Brown Ale. Since then he's taken on the half marathon almost every year for us, usually in a quirky outfit to add to the challenge. He's previously run as Darth Vader and last year was dressed as our fundraising mascot Paddington Bear™. In 2012 he even braved the London Marathon in the guise of Borat, complete with wig and skimpy mankini!
But running is not all about the fancy dress for Charlie. He runs and fundraises for Action because the cause is so close to his heart. On 4 February 2007, Charlie's little boy Daniel was born after just 24 weeks of pregnancy – 16 weeks too soon. Sadly, he died 10 days later.
"I did a lot of running when I was much younger, mainly 10kms," explains Charlie. "But I only started training properly again after my son died. It gave me a goal.
"Running for Daniel and for other families has always inspired me, both on the day and when doing the training. This year would have been his 10th birthday," says Charlie.
Sadly premature birth is the biggest killer of babies in the UK. Around 1,200 babies die here each year after being born too soon and many who survive a very early birth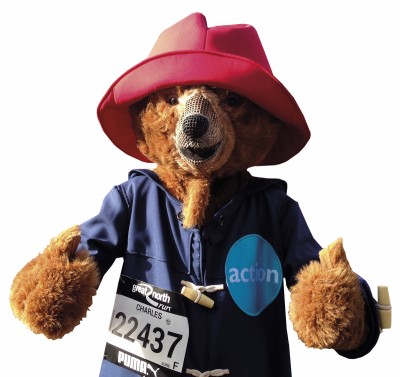 develop lifelong problems such as cerebral palsy, blindness and learning difficulties.
"This is the reason why I decided to run for Action Medical Research," says Charlie. "To help fund research trying to stop babies being born prematurely. Hopefully, through the research and funding, other families will not have to endure the suffering and heartache we went through. Even if Daniel had lived, the doctors explained the complications could have gone on for a number of years."
Charlie has now completed 10 Great North Runs in total, seven of them for Action. His stand-out costumes have meant he's often picked out by the media and here he's also done a great job helping the charity raise its profile and highlight our cause.
We're hugely grateful for the support of runners like Charlie. Every year we offer places in various events across a range of distances including the Vitality London 10,000 at the end of May, the Great North Run in September and the Virgin Money London Marathon.
Find out more about running for a reason and register here.