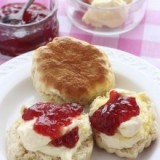 We hope as many supporters as possible will order our Action Cream Teas this summer. Last year we raised almost £55,000 but with your help we know even more cream teas can be enjoyed!
It's super-easy to take part and an ideal treat to share with a group of friends, family or work colleagues. Each cream tea box contains everything you need, lovingly packed by our wonderful teams of volunteers, and is delivered directly to your door on 22 or 23 June.
Boxes cost £6 each and there is a minimum order of 10.
Please – order yours, scoff a scone and help us fund big breakthroughs to save little lives.