We are proud to have been adopted by accountancy firm Price Bailey, as their charity of the year for 2018 and 2019. We look forward to working alongside their dynamic teams in Cambridge, Bishops Stortford, Ely, Norwich, Sawston and London. Working in partnership, we aim to raise up to £100,000.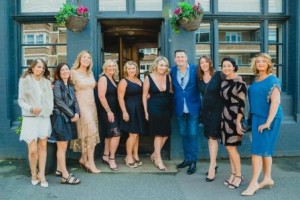 New event the Ginger Cocktail Society Ladies' Lunch was held at the award-winning Ginger Pig restaurant in Hove. It was hosted by supporters Pamela McKellar, co-owner of the Gingerman Group, and Heidi Skerritt of Skerritts Consultants (pictured left, either side of Tony Hadley). More than 100 women enjoyed lunch and cocktails in the company of Tony Hadley, who also sang. At the same time, a men's lunch took place down the road at the Gingerman restaurant before the two parties met for a live auction, all helping to raise over £40,000!
Liberty Specialty Markets have given tremendous support this year, raising money via cream teas, quiz nights, a curryoke (as it sounds – karaoke in a curry house!) and, most significantly, entering runners into the London Marathon and the Paris Marathon too. They have already raised well over £23,000 and we're looking forward to other activity, including a Christmas party with Paddington Bear™ at their London offices.
New supporters Airport Parking and Hotels (APH) have challenged staff to cycle, run or walk 25,000 miles in 2018, and they will donate £1 to Action for every mile achieved. A company team also rode in Davina's Big Sussex Bike Ride, and they are collecting unwanted foreign coins at their offices across the country.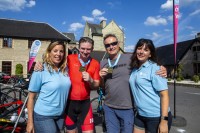 The third Aon Summer Bike Ride saw more than 100 riders, all staff or clients of Aon, enjoy one of three picturesque routes through the Surrey countryside. Special thanks to Hugo Raymond and Jeremy Lee (pictured right) who help to ensure the ride is a success. This year's looks set to have raised almost £45,000.
And, for the seventh consecutive year, One Stop shops throughout England and Wales raised vital funds from their counter-top collections in June.
A big thank you to all!