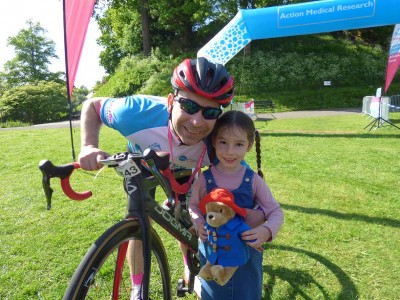 Why dad Martin Marlow conquered the Castle Ride's tough 200km challenge.
It was such a joy to see five-year-old Jasmine and her mum Shelley cheering in her dad Martin as he completed this year's Castle Ride 100 in Kent. This was the second year that Martin has conquered the event and he has a very special reason to ride.
Jasmine's birth was traumatic and she spent two weeks in special care, where she received cooling therapy to reduce the risk of brain damage.
This breakthrough treatment is now routine in the UK for babies who have suffered a shortage of oxygen at or around birth. It was the product of a 20-year programme of research to which Action Medical Research contributed more than £1m – and Jasmine's parents credit the treatment with saving her life.
Other than a small growth restriction, Jasmine has suffered no long-term effects from her difficult start. 
"We choose to support Action Medical Research because without the care Jasmine received she wouldn't be here today, and without the cooling therapy, she may have suffered long-term brain damage."

Jasmine's mum, Shelley
Martin braved our Epic ride route – the longest of our four options at over 200km and smashed his sponsorship target, raising more than £612. This takes the amount he has now raised in total to almost £1,200 – a fantastic result.
The Castle Ride 100 is one of the most popular events in our RIDE100 series of one-day rides. Routes range from a Cool 33 miles up to the Epic 124 miles. For details of next year's event and other rides visit action.org.uk/cycling