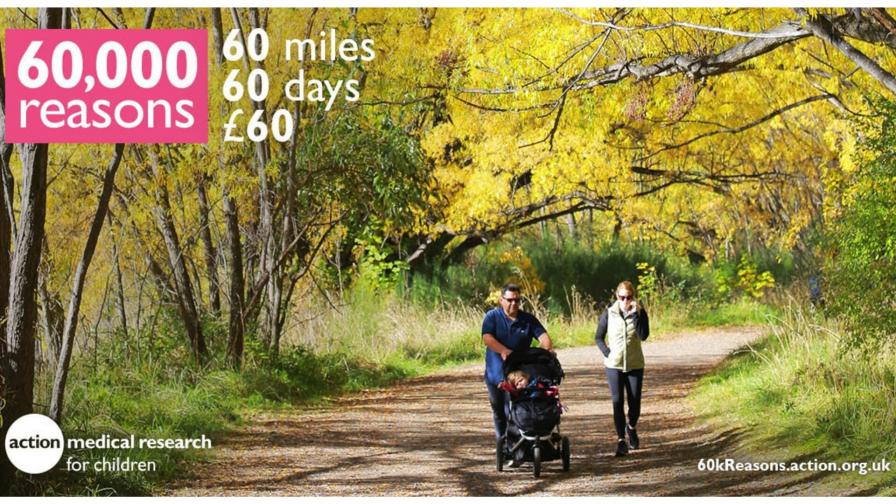 Horsham-based children's charity Action Medical Research is launching its latest fundraising challenge to help stop premature births.
'60,000 Reasons' encourages people across the UK to raise a minimum of £60 by walking or running 60 miles over a 60 day period.
Event Coordinator Kat Rand explains why: "Every year in the UK, around 60,000 babies are born prematurely; tragically, more than 1,000 lose their lives due to premature birth[1-5]. It's too many. Far too many.
"Our '60,000 Reasons' challenge is suitable for people of all abilities and will raise money to fund research to help stop babies being born too soon."
The challenge officially starts on 1 October, but you can sign up for free on the Action Medical Research website whenever you like.
And it doesn't matter how you rack up the 60 miles.
If you're fan of running, great. Prefer hiking in the South Downs? No problem. Even walking into town on your lunch break could help. Every step counts.
Kat says there's a lot of flexibility with this challenge: "You can choose to cover a mile every day, or maybe do 7 miles at the weekend… it's entirely up to you.
"The aim is just to cover 60 miles by the end of the 60th day, however you choose to do it."
At Action Medical Research, we fight for answers. Answers that can lead to cures, treatments and medical breakthroughs for some of the toughest fights our children face.
Over 1,000 babies die each year in the UK due to premature birth. Globally, it's the biggest killer of children under 5. It's too many. Far too many.
So we're fighting back. Together we will help stop babies being born too soon. Join the fight and sign up today to take part in 60 Reasons.