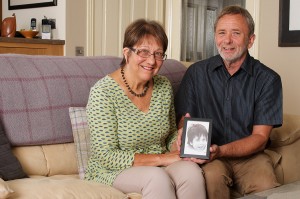 In the 1980s Paul Simpson was the youngest person in the UK to benefit from a revolutionary walking device that was developed with funding from Action. For his parents Anne and Stuart, remembering the charity when they made their wills was incredibly important.
Paul Simpson was just two-and-a-half years old when, by chance, his mum Anne saw a television programme that would see the start of a long relationship with Action Medical Research. It was about a new design of walking frame for people with spinal conditions. And Anne was determined to find out if it could help her young son, who had spina bifida and was paralysed from the waist down.
Paul had been born with an open lesion on his spine, which took several months to close, and at around six months old he was also diagnosed with hydrocephalus and needed surgery to fit a shunt to drain away excess fluid that was building up on his brain.
Anne describes her son as a beautiful, bonny baby, who grew into a very happy little boy and was popular with all who met him. He was also a fighter from his earliest days and his parents were always determined to help him live life to the full.
After making enquiries, Anne discovered that a walking aid like the one she'd seen was being developed here in the UK – research which was being supported by Action. Her persistence paid off when Paul was chosen as the youngest of just five volunteers to pilot test this new frame, called a Reciprocating Gait Orthosis (RGO).
The research turned out to be life-changing for Paul and the RGO became part of the family's daily routine.
"Without a doubt it transformed his life," says Anne. "It did him so much good physically but I also think it had a lot of psychological benefit too. It helped to give him a sense of normality."
Being upright and weight-bearing for short periods each day, supported by the RGO, meant Paul could avoid some of the health issues that sitting for prolonged periods can cause, such as kidney problems. And at his mainstream school it allowed him to spend time on the same level as his peers.
Paul's story captured hearts at Action and he went on to feature in a poster campaign for the charity and attended some of our most high-profile events – something his parents say he loved.
Sadly, Paul died suddenly aged just 14 as a result of an unforeseen complication. But his parents say they are left with the most amazing memories and his legacy lives on in many ways. One of these is in their decision to leave Action a gift in their will.
"For us it's a given," say Anne and Stuart. "The charity holds a very special place in our hearts. As well as the RGO, there's the research that has since proven the link between taking folic acid and preventing spina bifida – a hugely significant development – and also research into hydrocephalus is so important.
"The impact that research can have on people's lives cannot be underestimated and when you realise life is so precious you want to help. It gives us warmth in our hearts to know Paul's legacy will live on."
If you would like to find out more about leaving a gift in your will please contact Sharon on 01403 327413 or email sgearing@action.org.uk
You can also read more here