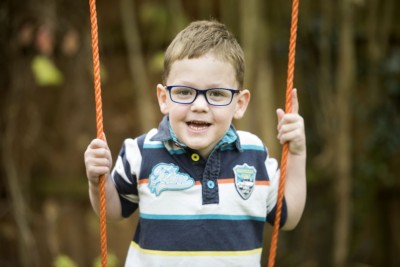 When Jack was born more than three months early, his parents were told he had a fifty-fifty chance of surviving. After a traumatic start, he has made remarkable progress. But he continues to face health issues as he grows up, as his mum Jenny explains.
"Jack is inquisitive – very inquisitive!" says his proud mum Jenny. "He asks lots of questions and he's a very smiley little boy."
Jack's early arrival, in late 2013, was sudden and a terrible shock to Jenny and her husband Matthew. After a seemingly easy and problem-free pregnancy, Jenny started bleeding at 25 weeks and was rushed to hospital.
"I wasn't in active labour, and I was so naïve that I thought as soon as they stopped the bleeding, I'd just go home," recalls Jenny.
But two days later Jack was delivered by emergency caesarean section.
"I was given a general anaesthetic and Matthew wasn't allowed in the room with me. He thought he was going to lose me and our baby," she says.
Tiny baby Jack weighed just 1lb 15oz at birth and needed oxygen, help with his breathing and feeding tubes to survive.
Jenny and Matthew knew their newborn son was extremely vulnerable and they were plunged into a world of tests and twice-daily meetings with his medical team.
"The doctors were always very cagey about Jack's outcomes, because they didn't want to give us false hope," says Jenny. "Suddenly we had to try and take in all this new terminology about oxygen levels, blood gases and brain scans."
Sadly Jack suffered from a collapsed lung and brain bleeds during his first few days of life. Then, when he was six days old, he developed a bloated tummy. Doctors feared he had necrotising enterocolitis (NEC), a life-threatening infection of the bowel that very premature babies are especially vulnerable to. Jack needed to be transferred to another hospital for urgent treatment. But he was so small and so sick it took specialist staff four hours to stabilise him and transfer him from the hospital incubator to the transport incubator: "It was the most traumatic thing," remembers Jenny.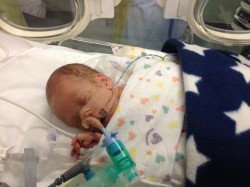 Jack survived life-saving surgery in the middle of the night, where it was found that he did have NEC. During the operation he had a piece of his bowel removed. This was to be the first of seven operations during his first six months of life.
The months spent in hospital were a time of enormous anxiety for Jenny and Matthew, since doctors could give no reassurance as to Jack's prognosis. "At one point the medical staff said that if they felt Jack wasn't going to develop, they would withdraw his support," Jenny says.
But, thankfully, Jack recovered from each setback and after four and a half months he was finally allowed home. "He was still on oxygen, so the canisters came too," says Jenny. "We were just so relieved to be home."
Jack caught up with his weight in his first year and is now a happy four-year-old. But he has experienced some developmental delay. "Physically he is behind, but he can walk, run and jump," says Jenny.
Jack has chronic lung disease due to the oxygen he needed in his early months and there are concerns about his eyes. He may also be affected by epilepsy due to the brain bleeds he suffered as a newborn baby.
Jenny believes passionately in the value of research into premature birth and conditions like NEC which can devastate tiny lives.
"Without research, we wouldn't have medical advances, and Jack probably wouldn't be here. We are so lucky to have him. There's no stopping him!" says Jenny.
Jack's little sister, Alice, was also born prematurely in 2016 and has been diagnosed with cerebral palsy. So finding out what causes premature labour is especially important to Jenny. "Anything that helps identify why women go into labour too soon is vital," she says.
OUR RESEARCH
Every year, around 61,000 babies in the UK are born prematurely. Babies like Jack, who have been born extremely early, face the greatest risks and sadly more than 1,000 die each year.
We believe that only by investing in research can the devastation caused by premature birth and pregnancy complications be stopped. Working in partnership with the charity Borne, we are now funding two new projects which aim to help reduce the number of babies born too soon and give the best possible outlook for affected families.
What causes premature birth is often unknown. But evidence suggests that infection is involved in four out of 10 women who experience an unexpected early labour.
At University College London, Professor Donald Peebles aims to develop a new treatment that targets such infections.
He explains: "Bacteria, usually found inside the mother's vagina, can sometimes get into the womb where the baby is growing. This is bad news, as this infection can trigger inflammation that may cause premature birth and damage to the developing baby's brain."
Professor Peebles and his team are testing a potential new treatment that's designed to boost the body's natural defences against these infections.
"Our hope is it could both reduce the numbers of premature births, as well as reduce the risk of brain damage and its long-lasting impact on children's lives," he says.
Find out more about our fight to stop the devastation caused by premature birth and pregnancy complications