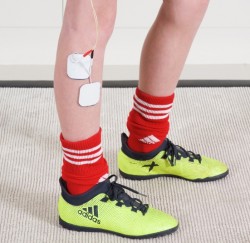 Dropped foot can be caused by cerebral palsy, multiple sclerosis, stoke or injury and makes walking difficult. Action funding has helped to refine a technology called functional electrical stimulation, developing it into an effective, wearable device that is now benefiting both children and adults in the UK.
Children with dropped foot are unable to properly lift one or both feet. They struggle to move their ankle and toes upwards, which causes the front part of the foot to drop down, or drag.
This can make walking difficult, slow and tiring, with an increased risk of trips and falls. It can severely limit mobility and affect a child's confidence, independence and quality of life.
Conditions such as cerebral palsy, multiple sclerosis, stroke and some inherited neurological diseases can cause dropped foot. It can also be caused by brain or spinal cord injury.
HOW WE'VE HELPED
From the mid-1990s, Action funding of £182,000 over seven years allowed researchers, led by Professor Ian Swain, to adapt and develop a technology called functional electrical stimulation (FES).
FES had previously been used in laboratories and hospitals since the 1960s but the systems were too bulky and complex for use outside of these settings. Professor Swain and his team, based at Salisbury District Hospital, in Odstock, and the Universities of Surrey and Southampton, aimed to bring its benefits to many more people.
FES uses specially timed electrical stimulation of certain muscles to help lift the foot when walking. Usually signals, or small electrical pulses, travel along our nerve cells and tell our muscles when to contract, allowing us to move. But if these signals are disrupted, movement becomes difficult or impossible. FES involves wearing a special device that uses low energy electrical pulses to mimic the natural signals sent along the nerves.
The first Action grant allowed the researchers to improve and test a device they had already developed, known as the Odstock Dropped Foot Stimulator. Their new solution, tested on stroke patients, allowed two muscles to be stimulated at once instead of just one. This was shown to have much greater benefit, with improvements in walking continuing even when the device was not in use – something that hadn't happened before.
Further funding allowed more improvements to be made and since then the researchers have continued to work on this technology. The Odstock Dropped Foot Stimulator (ODFS®) is now sold worldwide and is estimated to have benefited 15,000 people in the UK alone.
While the device was first developed for adults, the team in Salisbury now run a dedicated children's clinic. This is managed by one of the original researchers on the Action-funded work, Dr Duncan Wood, and has treated children affected by cerebral palsy, stroke and head injury.
Children with dropped foot who use FES are able to walk faster, with less effort and fewer trips. But the most important benefits are associated with quality of life. Dr Wood reports young patients saying things like: "I can keep up with my friends" or "my walking looks more normal when I'm in town."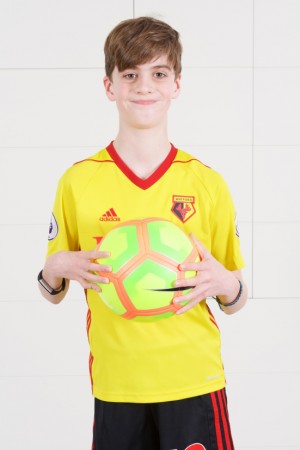 FINN'S STORY
Finn is 11 years old and has cerebral palsy affecting the right side of his body – a condition known as right-side hemiplegia. His mum, Helen, has a background in nursing and since his condition was diagnosed, at six months old, she's thrown herself into researching every possible source of help. This led the family to find out about FES.
Finn finds it hard to lift his right foot when walking and his parents were so convinced that FES could help him, they fought their local authority for funding. Finn now attends the clinic in Salisbury twice a year and has experienced real benefits from using his device.
His dad, Anthony, says: "It has been fantastic, with great results. It makes a huge difference to his walking."
Explaining how the system works, Anthony says: "Finn wears a little box – about the size of two match boxes – attached to his belt, and wires down his legs. These attach to sticky pads on his calves. This system is wirelessly connected to a special switch inside his right shoe."
The pads allow electrical pulses to reach his muscles. One pad lifts his toes and the other turns them outwards. The switch under Finn's right heel controls the timing and strength of the pulses, which can be adapted according to how he's feeling.
FES is helping Finn pursue his greatest passion in life: football. He plays for Chelsea Football Club under-12s team through the Chelsea Foundation's Disability Inclusion Programme.
He also plays for the Football Association's regional talent centre in the south east, in recognition of his skill and potential as a football player with cerebral palsy.
Aware that there is potential for hundreds more children and teenagers to benefit from FES, Anthony says: "The fact that charities like Action are prepared to put money into this is fantastic." 
"Without this research, Finn simply wouldn't have the benefit of this technology. It's absolutely about giving opportunities to kids, to make a difference – a profound difference."