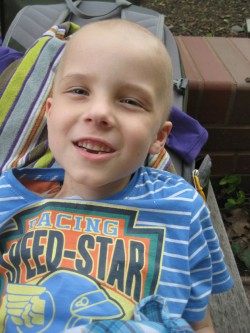 Around 100 young children a year are diagnosed with a cancer called neuroblastoma. Sadly some, like Felix, don't survive. Research funded by Action has tested new drug combinations aimed at making treatment more effective, to try and save more lives.
Felix was just four years old when doctors discovered a mass in his abdomen. "Our life completely changed that night," says his dad, Matthew. The little boy was diagnosed with high-risk, stage four neuroblastoma, a cancer that starts in the nerve cells and can spread rapidly.
Most affected children are very young – less than five years old – and, sadly, high-risk neuroblastoma can be very difficult to treat. Around one third of children lose their lives within five years of being diagnosed. Felix endured two years of aggressive treatment, including chemotherapy, multiple operations, radiotherapy and a stem cell transplant. "The toughest thing was when he was in pain and lost a lot of weight," says Matthew. "While his twin brother was growing, Felix was shrinking."
Throughout his illness Felix was cheerful and upbeat. He was unaware of the gravity and just wanted to be at home, playing with his brother and sister. Tragically he lost his fight, aged just six years old.
In 2014 Action awarded funding of almost £180,000 to Professor Robert Mairs, of Glasgow's Institute of Cancer Sciences. He aimed to enhance a treatment known as targeted molecular radiotherapy. This approach sees radioactive drugs, which seek and destroy cancer cells, injected into the bloodstream. It can be used to treat cancers that have spread and even destroy tumours that are too small to detect on scans.
The team investigated using additional drugs that are designed to make cancer cells even more susceptible to radiation-induced damage. Two of these were found to work well. This 'holds promise as another component in the arsenal for the treatment of high-risk neuroblastoma' says Professor Mairs, who anticipates clinical trials in children with the disease will happen within two years.
This research was funded together with Neuroblastoma UK.
We are now funding more research into neuroblastoma. Find out more and support our appeal