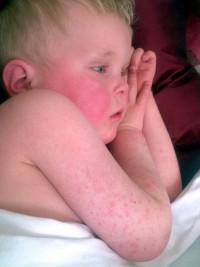 Scarlet fever is currently experiencing a worrying comeback and the bacteria that cause it can sometimes trigger more dangerous illnesses. New research aims to reduce the spread.
After decades of decline, scarlet fever infections hit a 50-year high in England last year – the largest reported spike in a century. Thanks to modern antibiotics, it is usually not serious and symptoms, including a blotchy rash, sore throat and high temperature, usually clear up within a week.
But the strep A bacteria that cause the infection can have a darker side. In rare cases they can trigger life-threatening illnesses such as pneumonia, meningitis, toxic shock and sepsis.
Action funding of more than £188,000 is supporting an important programme of work led by Professor Shiranee Sriskandan at Imperial College London, together with experts at Public Health England. This research will help inform public health strategy in the future.
"Given the current magnitude of scarlet fever outbreaks, it's really important that we find out how we can control it better," says Professor Sriskandan. "We aim to build our understanding of how scarlet fever infects children and spreads so we can identify the best ways to slow down transmission in future outbreaks. We hope that this will, in turn, save children's lives from more dangerous conditions caused by the same bacteria."
The team plan to identify key attributes of the bacteria that help them to spread and find out which antibiotics are the best at slowing them down. They will also test whether current hygiene recommendations and treatment guidelines for schools and nurseries are enough to limit the spread of scarlet fever during an outbreak.
More than 19,000 children were diagnosed with scarlet fever in England and Wales in 2016