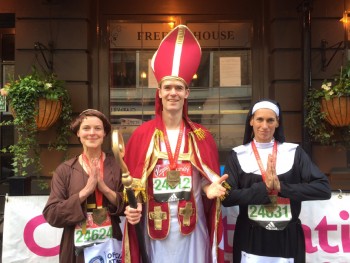 Not content with just completing this year's 26.2-mile Virgin London Marathon, three amazing Action runners each broke official Guinness World Records!
Sarah Dudgeon, from Abingdon in Oxfordshire, ran her first ever marathon and her first event for Action back in 2002 and since then has ran the iconic event at least seven times. More recently she's been joined several times by husband Max Livingstone- Learmonth and this year saw their friend Victoria Carter, from London, join them to form a record-breaking trio for Action – each was officially recognised for crossing the finish line in the fastest time dressed as a monk, a bishop and a nun!
It's not the first time Sarah has run in fancy dress for Action – she's previously set records for running the fastest time in a wedding dress (an impressive 3 hours 16 minutes) and in a nurses uniform (an even quicker 3.08.54).
And Victoria, supporting Action for the first time this year, also has three previous records to her name, including running three-legged with Sarah in 2016!
"The crowd especially love fancy dress and give you huge cheers the whole way," says Sarah, whose connection to Action is part of her family heritage.
Back in 1968 the charity provided vital funds for Sarah's grandfather Professor Alastair Dudgeon's groundbreaking research into the rubella vaccine. This research successfully demonstrated that the rubella vaccine gave long lasting immunity and was safe. Without this vaccine, if a woman becomes infected with rubella during the first four months of pregnancy, it can cause severe birth defects such as deafness, blindness and congenital heart defects.
Max's father, who sadly died in January, was also a keen supporter of Action, making this year's marathon especially poignant for him.
As a seasoned London Marathon runner Sarah says it's the event's uplifting atmosphere that she loves most. For anyone thinking of signing up to run for Action next year she says: "Absolutely go for it! All you need to do is the training! But you need to really want to do it or you won't do the training."
Overall, this year's wonderful Action marathon runners have raised more than £87,000. If you want to run for a reason in 2018, we have places in the London Marathon and also two new shorter events, the London Landmarks Half Marathon and The Big Half.