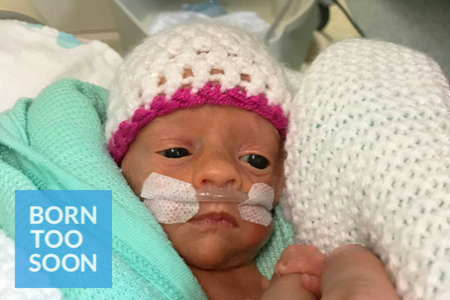 More than 61,000 babies are born prematurely every year in the UK.We believe that only by investing in research can the devastation caused by premature birth and other pregnancy complications be stopped. That's why we've launched our BORN TOO SOON campaign.
Steph's pregnancy had been completely low risk until she suddenly experienced severe bleeding. It was the start of a terrifying journey for her and husband Dan, as their tiny daughter Freya (pictured right) was born three months too soon, weighing just 2lb 4oz.
"Once I was admitted to hospital, all hell broke loose," recalls Steph. "There were consultants, nurses, scans and examinations. It was all such a shock."
Steph had developed HELLP syndrome, a life-threatening complication. Doctors needed to deliver her baby as soon as possible. She was given steroids to help Freya's lungs develop and medicine to try and protect against brain damage.
"I was in complete denial," says Steph. "I remember saying I still have three months to go."
Freya's delivery was difficult because she was so tiny but, thankfully, she arrived safely. "She didn't breathe for a little while," says Steph quietly. "It was completely surreal seeing her when they wheeled her next to me. She had a tiny hat on her head and a huge oxygen mask covering her face."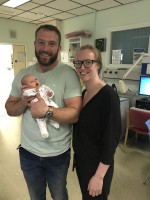 It is, says Steph, hard to describe just how small and fragile Freya looked: "She was the size of my hand, a little dot. But she was gorgeous."
Freya's first weeks were a rollercoaster of encouraging progress and terrifying setbacks. But she fought back and gained weight, finally going home after nine weeks in hospital. Although still small, she recently celebrated her first birthday and is doing well.
"We have been really, really lucky," says Steph. "Many of the women I met in hospital had gone into labour too soon and nobody could say why. We know so little about it and, as mums, we have a huge sense of guilt. It's so important to raise awareness of prematurity."
Find out more about the campaign and how you can get involved here