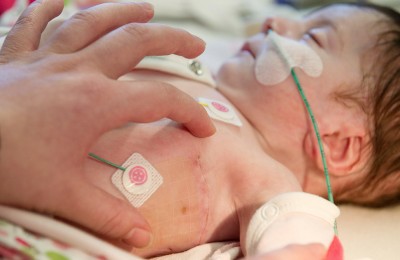 Up to half of all children born with a heart condition also experience problems with learning and development. Action is funding new research to try and discover why.
Congenital heart defects are common, affecting almost 1 in 100 babies born in the UK each year. Thanks to major medical advances over the last 50 years, the majority of children born with a heart condition now survive. But researchers have found that they tend to do worse at school, with many experiencing problems with movement, coordination, memory, hyperactivity, attention or speech and language skills.
Holli, now almost 16, was born with multiple ventricular septal defects, or holes in her heart. She had open heart surgery to repair these when she was 15 months old, and needed further surgery when she was nine to replace her tricuspid valve.
After Holli's first open heart surgery, her mum, Linzi, noticed a change in her little girl. "She had started to use simple words but after the operation, she stopped speaking," says Linzi.
Holli was referred to a speech therapist for extra support and when it came to starting school, her parents were careful to choose a smaller setting. "She seemed to cope well," says Linzi. "In reception she was buddied up with another child whose mum was a teacher at the school, to improve her speech. She always struggled with numeracy but I'm not good with maths so thought this was a family trait."
But more recently, after paying for private tests, Holli has been diagnosed with dyslexia and dyspraxia. "Knowing what I do now and looking back, she struggled with things like catching a ball, learning to ride a bike and balancing – which are all linked to dyspraxia," says Linzi. "And her dyslexia assessment showed she has no working memory, which is why she struggles with maths."
With Action funding of £174,000, new research aims to help children like Holli. Led by Professor Serena Counsell at King's College London, researchers have already collected detailed MRI brain scans of 80 newborn babies before they underwent heart surgery. They will repeat these scans on the children, who are now around two years old, and compare the images with those taken from a group of healthy children. They will also assess movement, learning and language skills.
"We need to understand why so many of these children go on to experience difficulties that can have a major impact on their life chances. Our aim is to reduce the long-term effects of congenital heart disease on brain development, helping children to achieve their full potential,"says Professor Counsell.
Linzi says: "If this research helps children to be spotted earlier and get the support they need, it can only be good."