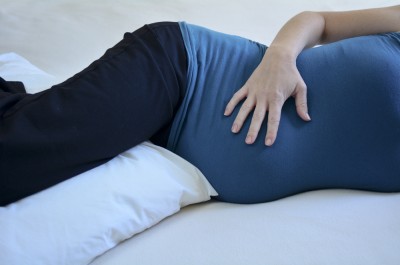 Stillbirth is devastating, with long-lasting effects on bereaved parents. We're proud to have helped fund an important study that has led to practical new advice for pregnant women and a public health campaign aimed at saving babies' lives.
Tragically, around nine babies are stillborn every day in the UK. Parents naturally want to know why their baby has died, whether it could happen again if they try for another baby and what they can do to avoid further stillbirth.
Professor Alexander Heazell specialises in identifying things in day-to-day life that increase expectant mothers' chances of having a stillborn baby, explaining: "These are what we call modifiable risk factors – things that women have the power to alter, either alone or with medical help."
Action, along with research partners Cure Kids and Sands, funded a three-year study led by Professor Heazell looking specifically at mothers' sleep positions in late pregnancy in relation to the risk of stillbirth.
Completed in 2017, this work has confirmed findings from earlier, smaller studies in New Zealand and Australia that, in the third trimester (after 28 weeks of pregnancy), pregnant women who go to sleep on their back are more likely to have a stillbirth. The study also showed that this link was not affected by the stage of pregnancy, the size of the baby or the mother's weight.
Supported by NHS England, a public health campaign has already been launched advising women to go to sleep on their side, rather than on their back, in the third trimester of pregnancy.
The 'Sleep on Side' campaign has received wide media coverage and it is estimated that if all pregnant women in the UK went to sleep on their side in the third trimester there would be a 3.7% decrease in stillbirth – saving around 130 babies' lives each year and sparing their parents from the heartache of bereavement.
Internationally, up to 100,000 babies a year could be saved if mums-to-be follow the new advice.
The position a woman settles down to go to sleep in is significant as this is the position they spend longest in – and it is something they are able to change.
Over the last 30 years cot death, or sudden infant death syndrome, has been massively reduced following investment in research to identify preventable factors and subsequent public health campaigns, like 'Back to Sleep'.
The data collated during this important research project is still to be further analysed and it is hoped this will lead to more modifiable risk factors being identified in the future.