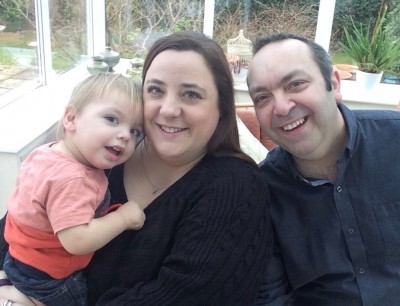 A gift in your will could unlock a future medical breakthrough, hold the key to a cure or treatment for a childhood illness, or simply make day-to-day life easier for children suffering illness or living with a disability.
September is a time when we celebrate Remember a Charity in your Will Week; a week based on promoting how vital gifts left in wills are for charities. We took part by sharing stories on social media from some of our amazing supporters who have made the decision to leave a gift in their will for Action.
Keith and Fleur Mitchell were just two of those taking part. They've been involved with Action for more than three years after their son Aiden, now four, was deprived of oxygen at birth during a traumatic delivery. Aiden was treated with cooling therapy, a treatment borne out of a 20-year programme of research to which Action contributed more than £1 million.
Although Aiden has been affected by the oxygen shortage he suffered, the impact would likely have been more severe, or even fatal, without the cooling therapy he received. This is why his parents feel it is so important to support our future work through a gift in their wills.
"Aiden is getting a chance at life thanks to Action's research. We want to ensure others get the same chance and so we have decided to leave a legacy gift in our wills. This is our way to continue to give back once we're gone and continue to help others,"

Aidan's parents, Keith and Fleur
At Action, gifts that are left to us, no matter what the size, are absolutely crucial and mean so much. Over the last 65 years they have enabled us to find breakthroughs and answers that have changed the world for children like Aiden today.
There is something very special in knowing that when you leave a gift towards funding medical research it can carry on making a difference to children over generations to come. As another of our supporters puts it: "I see it as investing in the next generation."
Thank you to everyone who took part in Remember a Charity Week and the many more who have left gifts in their wills and told us about it. More and more of you are doing it and letting us know, which is just incredible. It's gifts left in wills today, which will help safeguard the future of Action and the research we advance, so thank you so much from us all.
If you would like to find out more about leaving a gift in your will, you can request a copy of our will guide or email at legacy@action.org.uk. Sharon and Jane in our Gifts in Will Team are also always happy to chat by phone too on 01403 327413.